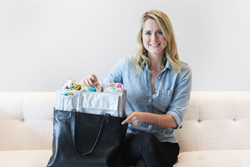 She quickly grew the business to be a top contender of unique baby gear gifts while pregnant with twins
Los Gatos, CA (PRWEB) July 20, 2017
As a new mom, Lauren Kutting, Founder & CEO of Life in Play, had a vision for a more stylish and functional diaper bag. Her product, ToteSavvy (the "anti diaper bag") allows fashion conscious moms to continue using their beloved designer totes as uber stylish diaper bags. ToteSavvy acts as the soul of a diaper bag––with perfectly sized pockets for easy access to all of your baby essentials––cleverly hidden inside any tote.
Kutting invented ToteSavvy after the birth of her first daughter. She quickly grew the business to be a top contender of unique baby gear gifts while pregnant with twins. Now a mother of 3 children under 5 years old, Kutting continues to run her business with an efficient yet small team around her––breaking down stereotypical walls that entrepreneurial success and early motherhood are mutually exclusive.
In the last 12 months, Life in Play Company has generated over a million dollars in revenue through their online store alone–proving ToteSavvy to be a top contender in the baby gear market. Kutting plans to continue expanding the product line to offer more "anti diaper bag" options for all parents, validating her theory that traditional diaper bags are a thing of the past.