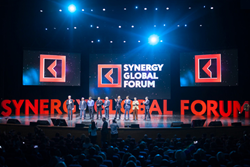 Synergy Global Forum is one of the world's premier business events, with this year's conferences eagerly awaited in NYC, Moscow, Abu Dhabi, and London.
New York, NY (PRWEB) July 20, 2017
Synergy Global Forum, one of the world's premier business events, is happy to introduce its special guest — actress and philanthropist Robin Wright. Wright is a 2014 Golden Globe® award winner for her role as Claire Underwood in the highly-acclaimed Netflix original series "House of Cards," for which she is also a five-time Emmy®-nominated Best Actress. She is further known for her leading roles in many major motion pictures, including her iconic turn as Jenny Curran in "Forrest Gump" and her acclaimed role as Antiope in the blockbuster "Wonder Woman," which is currently in theaters.
Wright is also known for her activism and passion for helping women around the world. She has worked with the Enough Project's Raise Hope for Congo Campaign to encourage international companies to ensure the minerals used in their products do not originate from conflict mines where women are abused. In 2014 Wright also launched Pour Les Femmes, a social conscious sleepwear company designed to make simple, beautiful and quality pieces while creating economic opportunities for women in conflict regions around the globe.
At Synergy Global Forum, which will be held On October 27th and 28th at the Theater at Madison Square Garden, attendees would be able to listen to Robin Wright and ask her questions. Among other speakers are Malcolm Gladwell, Nassim Taleb, Arianna Huffington, Ray Kurzweil, Gary Vaynerchuk, Guy Kawasaki and others. Speakers would be covering a wide range of topics which will reshape the lives of everyone who hears them.
The Forum has gathered the most recognizable and diverse lineup of speakers this year. For over two days 5,500 participants will be able to rub shoulders with the best professionals and influencers in numerous industries. Our special guest for the after party is Paris Hilton, who is no stranger to great parties. She will perform as a DJ in the one of Manhattan's most famous venues, the Hammerstein Ballroom.
We are happy to invite reporters and media partners to the conference.