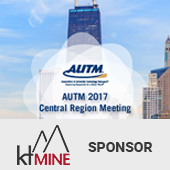 Chicago, IL (PRWEB) July 06, 2017
ktMINE, an intellectual property (IP) information services firm, announced today that they will be a Gold Sponsor of the Association of University Technology Managers (AUTM) 2017 Central Region Meeting, taking place from July 10-12 2017, in Chicago, Illinois. AUTM is the largest community of technology transfer professionals.
ktMINE's Eric Podlogar, Market Lead of IP Strategy & Valuation, John Wiora, Director of Operations, and Courtney Conn, Business Development Consultant, will be representing ktMINE in the exhibit hall at table 15. Technology transfer professionals are often tasked with finding potential partners, identifying potential deal terms, valuing technologies, and determining commercial viability. ktMINE's Technology Transfer Suite takes the difficulty out of these commercialization tasks and lightens the research load with access to IP intelligence. ktMINE's connected IP data and analytics include license agreements, royalty rates, patents & assignments, trademarks & assignments, M&A deals & rumors, licensed patents, patent court cases, IP news and IP portfolios.
The annual Central Region Meeting brings together over 200 local technology transfer colleagues for excellent content, engaging speakers, networking and friendly conversation. The meeting will focus on collaboration, technology commercialization and much more. Workshops will be conducted throughout the meeting and will include topics such as, "Patent System Advocacy", "What's Still Patentable These Days and How Has It Changed?", "When to Walk Away: Managing Technology Portfolios by Strategic Culling", and "Understanding the Pros and Cons of Taking Equity in University Startups".
About ktMINE
ktMINE, headquartered in Chicago, IL, is an (IP) information firm founded in 2008. Focused on minimizing research time, maximizing analysis power, and strengthening business decisions, ktMINE provides businesses across the globe access to insights on industry players, technologies, and developments. For more information, visit http://www.ktmine.com, or contact ktMINE to schedule a meeting.