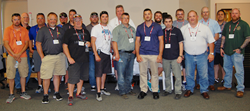 KANSAS CITY, MO, (PRWEB) July 06, 2017
Sioux Chief Manufacturing recently hosted a group of plumbing contractors and wholesalers from North Dakota, Massachusetts and Rhode Island for a tour of their manufacturing plant in Peculiar, MO.
Before the tour, members of the Sioux Chief team accompanied the visitors to a Kansas City Royals baseball game, who also played host to a group from Massachusetts – the Boston Red Sox. The next day, the group was in Peculiar for a tour of the manufacturing plant and a round-table discussion. Visitors then toured Sioux Chief's new Kansas City facility where the warehouse and distribution departments are currently operating.
During the tour, guests were able to see many of the products they use actually being made on the factory floor. "It was great to see quality products being made in America," said Paul Hennessey of JC Higgins Company in Stoughton, Massachusetts.
Another visitor, Mike Petrilli from EH Marchant Company of Quincy, Massachusetts, especially enjoyed the new product knowledge he gained from the trip. "The factory tour and training helped me understand the full line of products available and their potential applications on the projects we build everyday," Petrilli said. "I was also impressed by the plant and Sioux Chief's investment in US manufacturing."
For more information on Sioux Chief, visit their website at http://www.siouxchief.com.