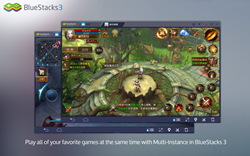 "BlueStacks 3 is an order of magnitude improvement over previous versions. The performance improvements mean that any computer can run even the highest requirement games like Lineage 2 without issues."
Palo Alto, California (PRWEB) July 20, 2017
Today, mobile gaming platform BlueStacks announced the launch of BlueStacks 3 powered by the new BlueStacks Gaming Platform. This marks the latest in a long line of innovations from the market leader in Android gaming on PCs and Macs. BlueStacks 3 includes a brand new simplified UI, an integrated "smart" App Center, automated and intelligent key-mapping making any game instantly compatible with keyboard and mouse actions, and Hyper-G, BlueStacks' new graphics engine.
The biggest innovation in BlueStacks 3 comes in the form of a quantum leap in graphics technology. BlueStacks is calling this new patented technology, Hyper-G. It allows for a user's computer to use its full graphics capabilities rather than sacrificing graphics for performance. "While other emulators actually make the graphics in a game worse as a cheat to make their software run faster, Hyper-G enables BlueStacks users to run games with full graphics, just like the game developer intended, without sacrificing an ounce of speed or performance." Said Shashi Kant, Head of Product at BlueStacks, "We also made it so we can support very high refresh rates and we never down-scale resolution. This means that games relying on a variety of game engines and graphics drivers can all run as they are intended. This is something no other emulator is doing."
In addition to Hyper-G, BlueStacks 3 introduces MOBA-Mode which transforms any MOBA-style game played on BlueStacks 3 into a computer-like experience. Players can use their mouse to move a character rather than a keyboard - freeing up the keyboard to cast spells, attack, and communicate just like in DOTA and League of Legends. "We feel that this is a game changer for mobile MOBA games on being played on PC," said Rosen Sharma, CEO of BlueStacks. "Our goal is to bring continuity to mobile gaming. If you are on the subway playing on the way home from school or work, you have many distractions and a less-than ideal play environment. With BlueStacks 3 players can continue playing their games on their computer with much greater precision just like they would with League of Legends. Players can play for fun on the go but they are most competitive when they play on their computers with MOBA-mode."
BlueStacks 3 had previously soft-launched in Korea, Taiwan, and several other countries with pre-release betas to a positive response. "BlueStacks 3 is an order of magnitude improvement over previous versions. The performance improvements mean that any computer can run even the highest requirement games like Lineage 2 without issues." Said Shashi Kant, Director of Product at BlueStacks. "With added enhancements like Multi-Instance, automatic customized keymapping, and machine learning to provide content based on a player's preferences, we believe this is the best gaming experience available on PC."
Based in Silicon Valley with offices in Beijing, Delhi, London, Tokyo, Seoul, Ho Chi Minh City, and a brand new office in Taipei, BlueStacks is funded with 27M USD from Intel, AMD, Samsung, Ignition Partners, Radar Partners, Andreessen-Horowitz, Redpoint, Qualcomm, Presidio Ventures (a Sumitomo Corporation Company), Citrix, and Helion Ventures. The 120-person company launched in May, 2011 and the first version of its App Player was released in March, 2012. In early 2017, BlueStacks crossed 200M users, solidifying their position as both creator of the "Android-on-PC" space and also its market leader.
Learn more about BlueStacks 3 at BlueStacks' official website.
You can follow BlueStacks on Facebook, Twitter, and Reddit as well.