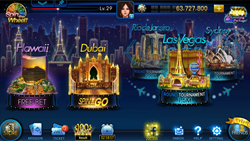 (PRWEB) July 07, 2017
From the company that brought nearly a dozen exciting games to the Korean market, ENP has teamed up with Neon Games to raise the stakes with World Blackjack Tournament. Neon Games has created a mobile game that shows they know what international fans want and guarantee to bring the same excitement that you can get from a casino but in the palm of your hand.
World Blackjack Tournament boasts tournaments in four different locations. You can travel the world and participate in tournaments from Las Vegas to Sydney, and all the way to the big league in Macau! This game is geared towards casual players, professional blackjack players and everyone in between. Everything is played in real-time against real people. Take a chance on this addicting game to see how many chips you can collect!
Key Features:

First app in the world to offer Blackjack Tournaments
Multi-level Tournaments: Rio, Las Vegas, Sydney, Macau
Play with friends around the world: 3-5 players maximum
100% offline casino rules apply
For more information, check out the official Facebook page: https://www.facebook.com/WBTfan/
iOS download link:
https://itunes.apple.com/us/app/blackjack-tournament-wbt/id1088737138?mt=8
Android download link:
https://play.google.com/store/apps/details?id=air.com.enp.games.WBT&hl=en
Soft Launch:
June 19, 2017 in Canada and USA
Contact Information:
Bella Lee
idea(at)enpgames.co.kr
+82(0)10-3408-4994