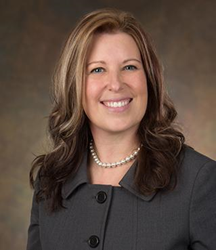 Appleton, WI (PRWEB) July 10, 2017
Herrling Clark Law Firm, Ltd., congratulates Attorney Paula Hamer on being selected as one of the American Institute of Family Law Attorneys' 10 Best Attorneys Under 40 in Wisconsin for the fourth consecutive year. The honor signifies that Hamer has accomplished a high level of professional achievement while maintaining an exemplary client satisfaction rating.
The AIOFLA is part of the American Institute of Legal Counsel, which rates attorneys nationwide in 13 categories of practice. The AIOFLA annually considers many attorneys in each state for the 10 Best Attorneys Under 40 honor, based on Institute, client, and colleague nominations. The top 10 are chosen after extensive research, independent evaluations, and client and peer reviews.
Family Law Attorney Paula Hamer is a Shareholder with Herrling Clark Law Firm, Ltd., based in Appleton, Wisconsin. She focuses her practice on issues concerning divorce, custody, paternity, placement disputes, and termination of parental rights. She joined the firm in 2004 after receiving her juris doctor with cum laude honors from Marquette University Law School.
Hamer is an active member of the Outagamie County Bar Association, Winnebago County Bar Association, and Waupaca County Bar Association.
Herrling Clark Law Firm President, Kevin Lonergan, feels that consistency is the most impressive part of Hamer's recent recognition. "The fact that Paula has been selected to this Top 10 list for four consecutive years is clearly a testament to her reputation, client satisfaction, and skills in the family law area. We are very proud of her and congratulate her on this outstanding accomplishment."
About Herrling Clark Law Firm, Ltd.:
Herrling Clark Law Firm, Ltd., provides legal representation for individuals and businesses throughout Northeast Wisconsin. Founded in 1959, the firm handles cases involving family law, personal injury, business law, and wills and trusts. Clients can visit one of the firm's four offices in Appleton, Green Bay, New London, and Oshkosh. To schedule an initial consultation, call 920-739-7366 or visit http://www.herrlingclark.com.