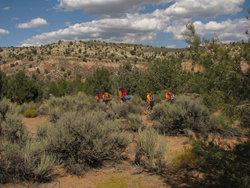 Evoke's outcomes research results are extremely promising and validate the positive anecdotal testimonials we have received over the years from parents and clients alike.
SANTA CLARA, Utah (PRWEB) July 10, 2017
Recent headlines from the Boston Globe and CBS News have called attention to the growing popularity and evidence of effectiveness of wilderness therapy, and the resulting insurance coverage battles many families face. Evoke Therapy Programs, wilderness therapy, personal growth intensive experiences, and adventure pursuit trips for adolescents, young adults and families, has been the most prolific program with wilderness therapy outcomes research since 2008, with promising findings of lasting change in the areas of behavioral problems, substance use, depressive symptoms, and a variety of other issues. Now, a new billing code for insurance companies (championed by Evoke's founders via the Outdoor Behavioral Health Council, or OBH) has been established that should make it easier for wilderness programs to bill insurers for their services.
At their core, wilderness therapy programs like Evoke provide personalized treatment for those struggling with issues including trauma, substance abuse, anxiety, grief, depression, identity issues, family conflict and much more. Therapy occurs in nature, away from digital distractions and other negative influences. Being outdoors, consuming a healthy diet, and getting adequate sleep and exercise create a healthy foundation for mental health, clarity and well-being.
Parents who turn to wilderness therapy have children who "are on the brink,'' said Patrick Sheehan, a Boston attorney who filed many of the lawsuits mentioned in the recent news articles. "It is a life-or-death choice for them.''
Indeed, upon entering Evoke, adolescent and young adult clients reported via well-tested questionnaire instruments (YOQ and OQ-45.2) acute levels of emotional and behavioral dysfunction. Participants in the study were measured at intake, discharge, and at six, 18 and 36 months post-discharge – a first for the field – with significant, lasting improvements in overall motivation, life skills, interpersonal relationships, hope, self-confidence, and emotion control. Specifically, parents reported upon discharge and at follow-up, less arguing, less complaining, better coping skills, and more hope in their children. In addition, 94% of the young adults questioned reported improved relationships and being happier in life.
"Evoke's outcomes research results are extremely promising and truly validate the overwhelmingly positive anecdotal testimonials we have received over the years from parents and clients alike," said Matt Hoag, Ph.D., Co-owner and Clinical Director of Evoke, who helped direct the research alongside Katie Massey, MSW, MSPH.
Very fortunately, Mary Covington, president of Denials Management, Inc., a Utah-based company that appeals insurance company denials, often for wilderness therapy treatment, said she is increasingly winning family claims against insurers to cover treatment. The new wilderness insurance billing code introduced July 1st and continued research in the field should help in this effort.
Ultimately, client success is the best indicator of efficacy and, as one mother of an Evoke client featured in the Globe article stated "the first thing [my daughter] said to me was 'Thank you for sending me there. You saved my life.'''
Evoke Therapy Programs provides personalized therapeutic care with a focus on whole-health. Evoke's programs include wilderness therapy for adolescents and young adults, individual and family personal growth intensives, and outdoor adventure trips. Evoke's whole-health treatment considers all aspects of a client's health, focusing on their emotional, mental, spiritual, and physical wellbeing. With locations in majestic Utah and Oregon, Evoke Therapy Programs uses the inherent human connection to the outdoors to facilitate lasting change. To learn more about Evoke Therapy Programs visit http://www.evoketherapy.com.
###