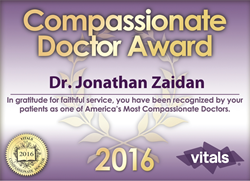 "Patient satisfaction and providing the best possible care has always been our focus and we're pleased to see that our efforts have been recognized. As a practice, we understand that the key to staying in good health is having an open, trusting relationsh
Birmingham, Clarkston, Lake Orion, Michigan (PRWEB) July 07, 2017
Dr. Jonathan Zaidan MD, President of Women's Excellence, has been recognized as a 2017 Most Compassionate Doctor. The Compassionate Doctor Award honors doctors who treat their patients with the utmost kindness. This award is part of Vitals Patients' Choice, a national recognition program in which patient's rate and vote for their favorite doctors through an online physician ratings service.
Dr. Jonathan Zaidan MD and the team at Women's Excellence focus on providing the highest quality of care through customer service and clinical excellence.
"Patient satisfaction and providing the best possible care has always been our focus and we're pleased to see that our efforts have been recognized. As a practice, we understand that the key to staying in good health is having an open, trusting relationship with your doctor, which is why our organization puts an emphasis on high quality patient care and service." – Dr. Jonathan Zaidan.
Women's Excellence is the most comprehensive obstetric and gynecologic office in Michigan. Additionally, they specialize in menopause, weight control, bladder control, endometriosis, robotic surgery and midwifery services. Women's Excellence is committed to staying at the forefront of innovation with cutting edge technologies utilizing robotic surgery and minimally invasive surgical options when possible. The knowledgeable, compassionate physicians and healthcare providers of Women's Excellence focus on patient-centered processes to deliver the highest quality of care. They are affiliated with most insurances. They offer seamless medical record access via a state of the art patient portal and use the latest technology for record keeping and sharing, making the patient experience easier and more efficient. Women's Excellence is taking new patients and is conveniently located in three locations throughout southeastern Michigan, Birmingham, Lake Orion, and Clarkston. For more information, visit http://www.WomensExcellence.com.