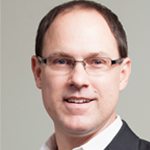 His 'out of the box' thinking and vision will continue enhancing our strategic direction, growth, and profitability at Phronesis
Boston, MA (PRWEB) July 06, 2017
Phronesis Partners today promoted Richard Evensen to the role of Partner & Chief Knowledge Officer (CKO). Richard joined Phronesis in 2014 and since then he has persistently taken on increasing levels of responsibility within the organization.
Over the past 3 years, Richard has been instrumental in client success and has ensured optimal research designs, ease of fielding, high-value insights and maximizing ROI on clients' research budgets. Given the high NPS scores attained by the firm under his leadership, he has been advanced to the CKO role with immediate effect. In this role, Richard will have increased focus on helping clients optimize their thought leadership research for marketing and brand value impact. He will also be supporting clients in designing insightful market opportunity assessment projects and will continue optimizing competitive and market intelligence assignments.
The announcement was made by Alok Tayal, Chairman of Phronesis Partners. Alok said, "Richard's capacity and contributions have been invaluable and he personifies the many wonderful traits of our company. His 'out of the box' thinking and vision will continue enhancing our strategic direction, growth, and profitability at Phronesis".
About Phronesis Partners:
Phronesis Partners, one of the fastest growing research and consulting firms globally, offers unique and actionable insights to deliver research & intelligence solutions for businesses. We take great pride in our solution-centric culture that drives client success by Simplifying Growth. At the heart of all our activities are bespoke project frameworks advanced by subject matter expertise, ensuring quality at the source. A set of specialized databases, 24*7 work culture, highly qualified staff and management team weave together the right knowledge and resources to deliver business insights with direct strategic applicability. Phronesis Partners is headquartered in Singapore with offices in London, Boston, and Noida (India).
Financial & Equity Research ǀǀ Business & Strategic Research ǀǀ Market Research ǀǀ Data Analytics ǀǀ Shared Services
For more information, please visit: http://www.phronesis-partners.com/ or write to info@phronesis-partners.com