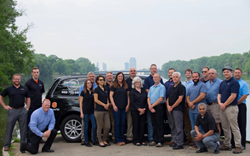 We are particularly pleased to enter into this new vendor relationship with ShoreTel -- Central Interconnect COO Des Mathiasz
Grand Rapids, Michigan (PRWEB) July 10, 2017
Central Interconnect Inc. in Grand Rapids has expanded its capabilities in telecommunications and IT solutions by adding ShoreTel products and services to its line card and hiring five full-time employees with in-depth experience in the voice and data fields.
As one of the largest professional A/V, sound, and communication systems companies in West Michigan, Central Interconnect now has 33 full-time employees that include technicians, engineers and systems designers who are skilled at integrating commercial-grade components from more than 100 brand name manufacturers into customized and affordable solutions.
"We are particularly pleased to enter into this new vendor relationship with ShoreTel, which has a wide range of Unified Communications solutions, both premise and in the Cloud," Central Interconnect COO Des Mathiasz said. "This new relationship will be particularly valuable for our customers that have invested in Toshiba phone systems, as that company is exiting the telecommunications market." Mathiasz said Central Interconnect will continue to support the Toshiba systems used by customers until they are ready to replace them.
ShoreTel, based in Sunnyvale, Calif., states on its website that the company is "focused on taking the complexity out of communications. That's why our award-winning products and services consistently outperform the competition on flexibility, customer satisfaction and lowest total cost of ownership, giving organizations worldwide the power to access information faster, collaborate more easily, and connect anywhere, anytime, and on any device."
ShoreTel's systems integrate perfectly with Central Interconnect's solutions because "we work within our customers' budgets to come up with right-sized and robust solutions for anything from a performance hall to a meeting room in a law firm," said Mark Johnson, Director of Business Development. "Most importantly, our customers know that we'll be around to back up our warranties and maintain what we build for years to come."
Central Interconnect has a team of outside service technicians, trucks, tools, test equipment and a complete stock of repair parts to react quickly to problems and minimize downtime, Mathiasz said. The company's installation technicians are factory trained and certified for the franchised products it sells. "Central Interconnect has beefed up its sales and service capabilities with the addition of three sales, a lead Voice/Data engineer, Randy Wood and two other experienced technicians" he added.
Established in 1981, Central Interconnect designs, installs and maintains projects for corporations, governments, religious and educational institutions, and non-profit organizations. Its systems are used by Ferris State University, UICA, the Van Andel Institute, Amway, Forest Hills Fine Arts Center, Plainfield Township, City of Kentwood, courtrooms for several courts and the Grand Rapids office of the MLive Media Group.
For more detailed information, interested individuals should access the Central Interconnect website at http://www.centralinterconnect.com