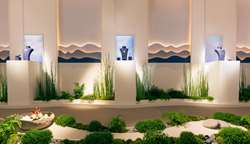 Haute Couture, Rue De La Paix, Paris, 2017 (PRWEB) July 06, 2017
Inspired by the serene beauty of the lotus flower, the Lotus by De Beers High Jewellery Collection captures the extraordinary lifecycle of this symbolic bloom in pristine diamond form. Each of the five stages in its journey towards the sunlight are brought to life in beautiful designs named Awakening, Blooming, Flourishing, Radiating and Soothing Lotus. Each tells a story through an evocative blend of pear, marquise, baguette and round brilliant diamonds. This High Jewellery collection also explores De Beers' signature use of rough diamonds, set with De Beers own precision technique. Each rough diamond is artfully placed among polished diamonds to recreate the hues of water, or the vision of hundreds of lily pads decorating the surface of a pond.
"The Lotus by De Beers High Jewellery Collection presents our peerlessly beautiful diamonds in five exceptional sets – each one conjuring the lotus' journey out of water and into light. Each moment of transformation, unfurling petal and evocative scene is brought to life through our unique diamond expertise and technical excellence. An artful blend of rough and polished diamonds in an array of shapes and cuts create beautiful compositions."

François Delage, CEO De Beers Diamonds Jewellers.
Each exceptional design was presented during Couture Week, where De Beers showcased a completely transformed High Jewellery Salon inspired by the serenity of the lotus flower. This enchanting display was enhanced with our signature rough diamonds; showcasing the natural colours, textures and shapes that make diamonds such rare treasures. This unique presentation included a 296 carat rough yellow diamond, a 117 carat rough brown diamond and a 58 carat rough white diamond.
ABOUT DE BEERS DIAMOND JEWELLERS
The Home of Diamonds since 1888, De Beers creates wondrous jewels with peerlessly beautiful diamonds to celebrate all of life's events. Over 125 years of diamond mastery go into creating each individual design. De Beers is entirely committed to authenticity and integrity. De Beers meticulously hand-selects the world's finest diamonds for their unique Fire, Life and Brilliance.
Every diamond above 0.20 carats is microscopically branded with the De Beers Marque and catalogued in the De Beers diamond registry. Every client receives a De Beers Certificate of Authenticity detailing the specifications of their jewel and guaranteeing that De Beers diamonds are natural, untreated, conflict-free and responsibly sourced and crafted, for complete peace of mind.
For further information and exclusive images please contact:
Pooja Johari
Marketing & Communications Manager
T + 1 212 751 2147
Email : pjohari(at)debeers(dot)com
http://www.debeers.com
THE HOME OF DIAMONDS SINCE 1888