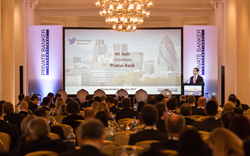 Private banks with their minimum balance thresholds, and mainstream banks with their retail solutions, have alienated this segment of the market
(PRWEB UK) 8 July 2017
Pilatus Bank is a European regulated bank that caters to both private and commercial high net-worth clients providing them with customized private banking and wealth management services that they can count on. The company focuses on providing their superior banking services to clients throughout Europe, Asia and Americas.
Pilatus Bank was nominated for the 2017 Outstanding Private Bank for Next Generation Proposition award at the prestigious Private Banker International Summit and Awards, where the chairman of Pilatus Bank, Seyed Ali Sadr Hasheminejad was a guest speaker. During his speech, which was attended by more than two hundred delegates, he mentioned how banking is likely to make some major changes in the coming decade similar to what we have experienced in the recent past with the telecommunications and smartphones.
Pilatus Bank took part in the Private Banker International Awards, along with other known banks such as BNP Paribas Private Bank, UBS Private Bank and Citi Private Bank. It was here where the Bank's chairman, Seyed Ali Sadr Hasheminejad stated that product integration and delivery will be different and we are about to experience a digital revolution in the next few years in mainstream banking. This revolution will come from the core of private banking, where the bankers have existing and interactive relationships with their clients.
Pilatus Bank, which has opened a branch in London at 4 Old Park Lane, stated that we are due to experience the potential of the mass-affluent market which includes a very diverse range of clients, from the high earners to those clients whom already have retired.
Seyed Ali Sadr Hasheminejad, the chairman at Pilatus Bank said "The Mass-Affluent holds the largest amount of cumulative wealth, and is significantly under-served. Private banks with their minimum balance thresholds, and mainstream banks with their retail solutions, have alienated this segment of the market."
Mr. Sadr reiterated that clients still want to be known by their banker, and at the same time it's essential that banking works itself into everyone's daily lifestyle by being convenient and simple; offering a twenty-four-hour service and automated business processes, which in turn would continue to reduce the number of branches. The private banker is at the forefront of finding a viable and technology-driven solution with their targeted investments into fin-tech moving forward.
About Us: Pilatus Bank is a leading European regulated bank that specialises in providing private and commercial banking facilities to high net-worth and affluent individual as well as financial institutions. Pilatus Bank leverages cutting-edge technology while providing personalised service. We have made significant investments in information technology to facilitate more effective interaction between bankers and clients and to strengthen their relationships. Gone are the days of multiple emails, phone calls, print jobs and faxes to communicate with clients.