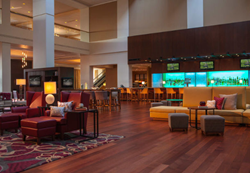 "Our goal is to create for each guest an experience that's unique and reflective of the vibrant energy of downtown Kansas City," says Cynthia Savage, director of marketing
Kansas City, MO (PRWEB) July 11, 2017
The most extensive and dramatic renovation of guest rooms in Kansas City Marriott Downtown history is under way. The $40 million investment focuses on an inventive redesign and complete renovation of all guest rooms and corridors in both Marriott and Muehlebach towers. "Our goal is to create for each guest an experience that's unique and reflective of the vibrant energy of downtown Kansas City," says Cynthia Savage, director of marketing. "It's all about not missing a beat, staying in tune with our guests' needs, and being on the cutting edge of hospitality."
High-tech functionality is the overarching design theme created by Atlanta-based PFVS Interiors. Modern features include computer friendly work desk with integrated technology and task chair. Multiple power and USB outlets have been added throughout the room to complement the laptop compatible safes, in-room media that includes 55-inch flat panel HD TV's and two levels of high speed internet that allows guests to log into their Netflix account. Bedside connectivity, and mobile key certified RFID and Bluetooth enabled electronic door locks provide additional convenience and security features.
Custom décor leans to modern, urban style and is inspired by Kansas City Blues and Jazz traditions. The color palette combines soft greys and blues. Accent walls feature a contemporary sound wave pattern and are adorned with art depicting modern interpretations of local motifs. All rooms feature soft seating, a minimalist open wardrobe system that replaces the traditional closet, in-room refrigerator, easy access luggage bench and energy efficient LED lighting. Bathrooms have upscale features like backlit mirrors and dual showers; 75% have walk-in showers and 25% have combination shower/tub. Guests may request king bed, double queen or ADA compliant rooms with TDD capability.
The vision being carried out by the general contractor, Gene Fritzel Construction based in Lawrence, Kansas, is rooted in listening to the preferences of our guests according to Savage. "They want tasteful, modern rooms that have cutting edge technologies and amenities. When a guest walks into a new room, we want the message to be 'We listened to you and here it is. Welcome.'" Construction is scheduled for completion in 12 to 18 months.
About Kansas City Marriott Downtown: Kansas City's largest convention hotel offers 983 guest rooms and over 93,000 square feet of flexible historic and modern venues spread out through 42 different event spaces in two towers connected by an elevated walkway. Information is available by calling 816-421-6800 or visiting kansascitymarriottdowntown.com.