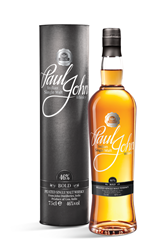 New York, New York (PRWEB) July 06, 2017
John Distilleries Ltd. (JDL), one of the world's leading specialists in the creation and production of Indian distilled beverages, announces the launch of its 'Bold' expression after winning a Double Gold medal, and being named the "Best Other Whisky" of over 100 entries at the 2017 San Francisco World Spirits Competition (SFWSC).
A peated single-malt whisky, Bold boasts notes of honey and subtle smoke on the nose, accompanied by a silky mouthfeel and flavors of oak and honey on the palate. The sweetness is followed by pleasant spice and a smoky peat finish with a tinge of copper. Bold is available at a suggested retail price of $75, and joins the Paul John U.S. portfolio that also includes Brilliance (SRP $60), Edited (SRP $65), Select Cask Classic (SRP $95) and Select Cask Peated (SRP $100).
"Paul John Whiskies have had a sparkling run in the United States thus far, and we're excited to introduce our American audience to yet another award winning whisky," said Paul P. John, chairman of Paul John Indian Single Malt Whisky. "It is indeed an honor to be recognized on such a global level and I hope to continue creating great whiskies that win the world over."
In addition to the accolades for Bold, Paul John also took home SFWSC Double Gold medals for its Edited, and Peated Select Cask expressions, as well as Silver medals for its Brilliance and Classic Select Cask expressions.
Along with the brand's success at the SFWSC, the Paul John Peated Select Cask was declared the 'Best Indian Single Malt' at the World Whiskies Awards 2017, while Paul John Brilliance and Paul John Classic Select Cask were awarded Gold and Silver respectively. Furthermore, Mr. Paul P. John was declared the 'World Whisky Brand Ambassador of the Year,' lauded for his entrepreneurial skills and passion for premium products. The Paul John Single Malts were also honored at the 2017 American Ultimate Spirits Challenge where director F. Paul Pacult awarded the Paul John Peated Select Cask a 96 point rating and the Chairman's Trophy in the World Whisky category.
About Paul John (http://pauljohnwhisky.com/)
Paul John Single Malt Whisky is an award-winning premium spirit distilled in the tropics of Goa, India. Crafted from six-row barley grains that are grown at the foothills of the Himalayas, this superb single malt is aged for a minimum of five years. Carefully crafted during each stage of the whisky-making process, its sweet and smoky aromatics have made this award-winning whisky a standout among connoisseurs and whisky lovers around the world.