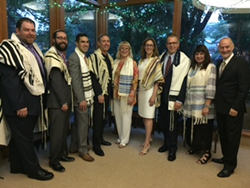 "Our Rabbis are being trained to meet the needs of the modern Jew. The candidates bring their own unique life experiences providing a rich educational environment." Comments Rabbi Blane
Stony Point, New York (PRWEB) July 10, 2017
JSLI - Jewish Spiritual Leaders Institute, the Online Rabbinical and Cantorial School of Sim Shalom, celebrated freedom in diversity and flexibility on July 4th weekend at the 13th Class Ordination weekend.
The six (6) new Rabbis, from a range of backgrounds, four (4) from the United States and two (2) from Canada shared a classroom on the internet and a passion for Jewish Religious studies. They completed traditional Rabbinic studies with a focus on contemporary Jewish issues and problems that a 21st Century Jew faces. The nod to modernity continues as learning occurred online via web conferencing and a learning management system. The Torah Parsha studies and weekly video conferencing was led by JSLI Founder and Dean, Rabbi Steven Blane as well as other Rabbis who taught topics like the Jewish View of the Afterlife, Inclusion, and Reproductive Issues.
Each Rabbinic candidate was granted semicha by the Bet Din as part of the celebration. The Certificate of Ordination confers the Rabbinical authority to offer pastoral care, interpret Jewish law, lead services and perform the myriad of Jewish life cycle blessings. Like the Bet Din comprised of JSLI ordained Rabbis Sandy Zisser and Nancy Tunick, the new class will pursue a life of service in a variety ways from serving in a pulpit to teaching to providing innovative B'nai Mitzvot and other Life Cycle events.
The spirit of the weekend was one of joy and reflection with the ordination taking place in a glass walled room offering a view of G-d's creation.
JSLI – Jewish Spiritual Leaders' Institute is a mult-denominaltional professional rabbinic program of Sim Shalom, the online synagogue. The students bring their own unique life experience to the table and share knowledge and networking while supporting one another as they move to serve the unaffiliated, interfaith and contemporary Jew.
ABOUT US
Sim Shalom is an interactive online Jewish Universalist synagogue which is liberal in thought and traditional in liturgy.  Created in 2009 by Rabbi Steven Blane on Manhattan's Upper West Side, Sim Shalom offers a means of connecting the unconnected.  Rabbi Blane leads accessible and short Shabbat services every Friday night using a virtual interface and additionally Sim Shalom provides online education programs, Jazz concerts, conversion and life-cycle ceremonies along with weeknight services at 7:00PM EST led by Rabbis and students of this online community.
Rabbi Blane is also the founder and director of the Jewish Spiritual Leader's Institute,
http://www.jsli.net, the online professional rabbinical program.  
Sim Shalom, a non profit 501 © (3) tax-exempt organization,  nurtures a Jewish connection through its mission of innovative services, creative education and dynamic outreach to the global community.  For more information visit http://www.simshalom.com or call 201-338-0165.