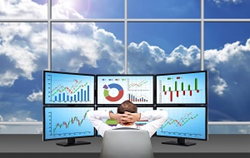 Boulder, Colo. (PRWEB) July 11, 2017
Enterprise Management Associates (EMA), a leading IT and data management research and consulting firm, today announced it will host a webinar titled "Empower Your Organization with Data: Today's Forward-Looking Company Strategically Uses Data," featuring John L Myers, managing research director at EMA, Erin Haselkorn, head of market research at Experian Data Quality and Basil Brown, pre-sales engineer at Experian Data Quality.
Data-driven organizations are winning in the market today. These organizations use data to derive information that dramatically alters business models and even creates completely new ones. The use of data puts these organizations in a position to gain advantage and expand it against laggard competitors.
As a result, the chief data officer (CDO) is becoming a more prominent role. The CDO is brought on board to capitalize on big data opportunities and help create a competitive advantage through data. The CDO leads the organization to move quickly and strategically to implement and empower business stakeholders to make the most effective use of the information they collect.
During this webinar, Myers, Haselkorn and Brown will discuss how organizations are taking the data-driven leap and how they can set themselves, and their CDO, up for success.
Topics of discussion will include:

The continuing trend of data as a corporate asset
The importance of the chief data officer
The need to add context to sensor and machine-generated data
The importance of data quality in customer experience
How to ensure accurate data fit for your organization's needs
The webinar is Wednesday, July 19 at 2:00 p.m. Eastern. Those who wish to attend can register at: http://research.enterprisemanagement.com/empower-your-org-with-data-webinar-pr.html
About EMA
Founded in 1996, EMA is a leading industry analyst firm that specializes in providing deep insight across the full spectrum of IT and data management technologies. EMA analysts leverage a unique combination of practical experience, insight into industry best practices, and in-depth knowledge of current and planned vendor solutions to help clients achieve their goals. Learn more about EMA research, analysis, and consulting services for enterprise line of business users, IT professionals and IT vendors at http://www.enterprisemanagement.com or blogs.enterprisemanagement.com.