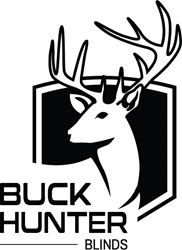 "Our blind can be fully assembled in 5-10 minutes allowing hunters to stay comfortable and undetectable while waiting for a buck of a lifetime."
Buffalo, New York (PRWEB) July 07, 2017
Buck Hunter Blinds, insulated knockdown aluminum hunting blinds designed for extreme durability and extremely quick assembly, launches online today. Offering the utmost covering for hunters, this product is easy to setup and breakdown while offering considerable insulation to keep hunters warm, dry and scentless
A product of American Douglas Metals (ADM), a premier industrial leader in metal manufacturing, processing, fabrication, assembly, warehousing and distribution, Buck Hunter Blinds was developed to meet the rising demand for high-quality hunting blinds that can be placed without heavy machinery.
"Buck Hunter Blinds are extremely durable will last for countless hunting seasons," says Vice President at ADM, Jeff Raimonde. "Our blind can be fully assembled in 5-10 minutes allowing hunters to stay comfortable and undetectable while waiting for a buck of a lifetime." With the ability to assemble the Buck Hunter Blinds quickly, hunters can stay hidden from passing game until they're ready to strike.
Sized to accommodate up to two people, Buck Hunter Blinds features connecting corner designs and rapid roof latching for a simple setup, a rain-proof roof and overhang, a keyed locking door to prevent intrusion, marine traction mat flooring and more. Made from military-grade aluminum and two-inch-thick insulating foam, the product is lightweight and sturdy as well as corrosion-proof.
Raimonde continues, "With such an easy setup process and no maintenance, all our customers need to worry about is finding a good hunting spot."
Buck Hunter Blinds' physical product launch will take place at the Florida Deer & Turkey Expo, July 7th through the 9th.
-----------------------------------------------
About Buck Hunter Blinds
Buck Hunter Blinds is the American industrial leader for manufacturing high-caliber hunting blinds. Made in the United States with shipping capabilities worldwide, Buck Hunter Blinds offers ground blinds constructed with military-grade, lightweight aluminum so hunters can set up their blinds in a favorite spot at any time. Insulated with 2-inch thick panels, Buck Hunter Blinds allows hunters to be comfortable while on the hunt. With Buck Hunter Blinds, you're always getting the "Best Bang for Your Buck."
To learn more about Buck Hunter Blinds, or to place an order, visit http://www.buckhunterblinds.com.