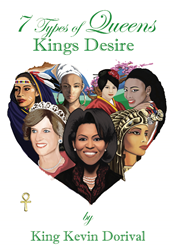 Men can not be who we need to be unless our women rise up as Queens to their throne. A roadmap for women dating and yearning to create proper relationships through self-empowerment and self-love!
Miami, FL (PRWEB) July 07, 2017
Not since NY Times best-selling book and film fame of Steve Harvey's Act Like a Lady, Think Like a Man has there been a book that peers into the needs and wants of a man like the soon-to-be-released King Kevin Dorival's 7 Types of Queens, Kings Desire — it hits bookshelves on 7.17.17.
"Steve's book was a great read, and entertaining, but I must admit, I don't agree with changing the consciousness of women to think like men. Women just need to be taught the secrets of womanhood from a historical perspective and they will attract kings – just as the former first-lady Michelle Obama did," said Dorival, a marketing director by day and an author/motivational speaker for life.
Combining historical models, psychological theory, spiritual underpinnings and anecdotal evidence, Dorival makes a substantive case for why every man desires a specific set of traits in the women who make up their world.
From her motherly nature and her culinary skills to her sexual prowess and knack for king-building, Dorival insists that a modern woman examines the lives of female historical figures like Queen Nzingha, Harriet Tubman, Princess Diana, Winnie Mandela and contemporary figures such as Michelle Obama to determine why men were drawn to be with and/or beside these female powerhouses.
Dorival was initially inspired by the grit his single mother "Queen" Rosette Pierre exhibited under grinding political turmoil while in Haiti and then when she migrated to Pompano Beach, Florida to raise he and his four siblings.
Coupling his real-life experience with his expertise in the field of market research, Dorival presents his findings and observations of the world in an easy-to-read format peppered with introspective questions at chapter ends and FYI boxes for further reflection and study.
"If we don't know why we are where we are and how to get where want to be, we are destined to live a sub-par life. Men have to understand that much of our power, inspiration, wisdom and strength comes from the sacred feminine energy of women, our mothers and our wives," said Dorival. "In my book, I ask women if they are a king-builder or a back-breaker? It is crucial that women build men up to protect and provide, which facilitates in them building strong marriages, which build strong families, which build strong communities, which build stronger nations. This is what the world needs, right now!"
King Kevin Dorival is currently the marketing director for a South Florida-based construction firm, the founder of the Annual Black On Black Crimes Solutions Panel and a graduate of Florida Atlantic University. His first book, Courage to Believe, was published in December of 2012.
For more information on King Kevin Dorival, to schedule a press interview and for book excerpts/samples of his book 7 Types of Queens, Kings Desire, visit http://www.7queens7kings.com. Books can also be ordered on his website, Amazon, and iTunes. You may call his highness at 954-372-6336.
###
PRESS CONTACT
King Kevin Dorival
Mentor, Author, Host & Filmmaker
Founder of Annual Black On Black Crime Solutions Panel & C2B Chess Club/Mentoring Program
954-372-6336
7queens7kings(at)gmail.com
http://www.7queens7kings.com
On Twitter @courage2believe
LinkedIn: https://www.linkedin.com/in/kevin-king-dorival-4379a829
Instagram: https://www.instagram.com/7queens7kings/