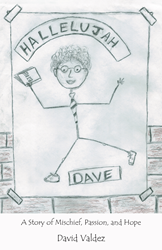 ATLANTA (PRWEB) July 10, 2017
Stemming from his experience growing up in America as a son of Mexican immigrants, David Valdez's lifelong collection of memories and personal stories are now on the printed page.
In his memoir, "Hallelujah Dave," Valdez chronicles his journey as he searches his way through America. He shares a vivid look at his entanglement in the hippie movement where he later becomes ensnarled in the Vietnam anti-war movement at the University of Illinois. Valdez writes about heartfelt stories as he discovers his identity culminating in the most heartfelt conversion to Christianity.
"We are facing so many issues today, and one of the most prominent issues is illegal immigration from Mexico and the fate of their children" said Valdez. "I am one such child, lost as a teenager in drugs and alcohol, and I want to let children and parents know that there is hope for a better world – hope that stems from a relationship with Jesus Christ."
Readers will be enthralled with the storyline of "Hallelujah Dave" as Valdez's stories relate to the issues we face today.
"Hallelujah Dave"
By: David Valdez
ISBN: 978-1-51276-588-5 (sc); 978-1-51276-590-8 (hc); 978-1-51276-589-2 (e)
Available on WestBow Press, Amazon and Barnes & Noble
About the author
David Valdez now lives in North Georgia with his dog Ally. He was born and raised along the Fox River Valley of Illinois. He has written numerous articles in chemical journals during his career and dabbled in poetry. Upon retirement, his wife told him to start writing his dramatic and humorous stories his family has enjoyed during the past 40 years. David recently lost his wife and is battling cancer, but remains determined to present a message of hope.
###
General Inquiries:
LAVIDGE – Phoenix
Bryan Beach
480-998-2600 x 510
bbeach(at)lavidge(dot)com