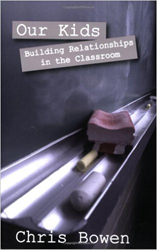 "Great read. Chris Bowen can write. And he can write so you get the emotion he got out of the experiences he writes about. Tale after tale that pull at your heart strings or twang your funny bone." - Jim Miskoon, Amazon Reviewer
(PRWEB) July 10, 2017
"Our Kids: Building Relationships in the Classroom" was written to make anyone who teaches fall in love with teaching all over again. The author's advice: "Teach like a mentor. Teach as your better self. Teaching is all about building relationships, and consider this book to be relationship advice worth taking," which is what his book is all about: building relationships.
Through his humorous classroom stories and inspirational moments, Bowen shows how to relate to kids, "whether they're the ones in your home, your classroom, or simply the ones that just pass through your life. Because, in the end, they are all our kids."
Bowen was inspired to become a teacher by the George Bailey character played by Jimmy Stewart in the Christmas film classic "It's a Wonderful Life." He writes about Bailey, a "wild-eyed dreamer, brimming passions, sights set on conquering the world. He doesn't conquer the world. He never even gets on that train leading out of town. It's the first image that comes to my mind when anybody asks me why I teach."
According to Amazon reviewers:
"As a teacher, I really appreciated the insights and anecdotes within this book. I found it to be both entertaining and informative. Bowen writes with an ability to find the humor in the 'tragedy' that inevitably accompanies any writing about public education. The result is a wonderful sense of optimism and hope for parents, students, and aspiring teachers. I definitely recommend this book to anyone." – William S. Holmes II
"I. Loved. It. You had me at George Bailey. As a parent, this book renews my faith and hope for public education in America. The author offers an intimate look into his own life and the lives of his students, revealing the very qualities that make Mr. Bowen worthy of such an esteemed title of Teacher of the Year. His style is engaging, accessible, compassionate, and humorous … it left me wanting more. I would recommend this book to anyone involved in the field of education. A wonderful reminder to experienced teachers and a poignant view for those just starting out … It is an opportunity to gain an understanding of the day-to-day experiences that take place every day in America between children and teachers. The fortunate children have teachers like Chris Bowen in their lives." – Christine O'Sullivan
"Great read. Chris Bowen can write. And he can write so you get the emotion he got out of the experiences he writes about. Tale after tale that pull at your heart strings or twang your funny bone. They come from his direct experience with life. Uplifting and rewarding … Now, if President-elect Trump would appoint him as Secretary of Education, we might see some change coming. Think I'll tweet that." – Jim Miskoon
About the Author: Chris Bowen has been Teacher of the Year for his school and school district, and was most recently honored as Teacher of the Year for Los Angeles County, which employs over 80,000 teachers. His most important key to success is building a personal relationship with each child. There's a huge difference between being tough and being strong. Anybody can be tough with a nine-year-old, but it takes the strength of patience, empathy, and honesty to build a more effective, lasting relationship.
OUR KIDS: BUILDING RELATIONSHIPS IN THE CLASSROOM (ISBN: 978-1-43272-453-5) is now available in softcover for $14.95 (eBook, $4.99) and can be ordered through the publisher Outskirts Press website:
https://outskirtspress.com/bookstore or at http://www.amazon.com or http://www.barnesandnoble.com.