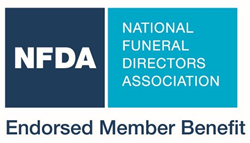 Our partnership with the NFDA will help more funeral directors connect families with a simple way to help them afford the services they want.
Sherman Oaks, CA (PRWEB) July 07, 2017
LendingUSA, a leader in funeral financing, has announced that it has been exclusively endorsed by the National Funeral Directors Association, the world's largest association of funeral service professionals. The NFDA has named LendingUSA as its official financing solution of choice for families looking for help with the cost of funerals.
"Following an extensive search and thorough vetting process, we are excited to add LendingUSA to our roster of NFDA endorsed providers," says Ashley Cozine, President of the NFDA, of the partnership. "LendingUSA is a solid, reputable company that will provide excellent customer service to our members and the families they serve."
As a result of the partnership, NFDA members can now take advantage of LendingUSA's simple, low-cost financing solution, which charges no fees on prime loans, and offers attractive promotional financing programs to all borrowers at no additional cost to the funeral home.
"Our goal is to be a convenient and timely financing option for the people who need it," says Mike Testa, President of LendingUSA. "Everyone wants to celebrate their loved one's life in a memorable, meaningful way, but for many people, funeral costs are sudden and unexpected, making it difficult to pay. Our partnership with the NFDA will help more funeral directors connect families with a simple way to help them afford the services they want."
LendingUSA's funeral financing program is known for its ease of use, with an online approval process that gives families the ability to receive timely services. Loan decisions can be made in seconds, allowing funeral directors to offer financing in a way that quickly and seamlessly integrates with their business.
Other benefits of LendingUSA include its ability to approve up to 30% more applicants than most traditional financing options, and its fast, direct funding of merchants. Already in use at hundreds of funeral homes nationwide, LendingUSA serves as an easy way to help families secure affordable financing.
"As funeral directors, we understand families are not always prepared," says Wayne Brasco, owner of Brasco & Sons Memorial Chapel. "LendingUSA allows us to help so finances don't add to the burden of loss."
NFDA members can learn more about the benefits of using LendingUSA by logging into their NFDA account and visiting http://www.nfda.org/endorsedproviders. They can also speak directly with a LendingUSA representative by calling 1-800-574-9945, or schedule a demo on the LendingUSA website.
About NFDA
NFDA is the world's leading and largest funeral service association, serving 19,700 individual members who represent more than 10,000 funeral homes in the United States and 49 countries around the world. NFDA is the trusted leader, beacon for ethics and the strongest advocate for the profession. NFDA is the association of choice because it offers funeral professionals comprehensive educational resources, tools to manage successful businesses, guidance to become pillars in their communities and the expertise to foster future generations of funeral professionals. NFDA is headquartered in Brookfield, Wis., and has an office in Washington, D.C. For more information, visit http://www.nfda.org.
About LendingUSA
LendingUSA's mission is to create lasting business partnerships by providing innovative point-of-need financing solutions for the important moments in life. LendingUSA is committed to creating the best point-of-need consumer financing experience available, using a proprietary lending solution that leverages both traditional and next-generation underwriting and fraud detection techniques to approve loans as quickly as a few seconds. LendingUSA works closely with its merchant partners, providing the tools and training they need to easily and efficiently maximize customer financing approvals and grow their business. For more information, visit http://www.lendingusa.com.