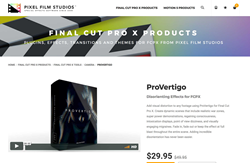 This new FCPX Plugin adds distortion to all footage.
Aliso Viejo, CA (PRWEB) July 07, 2017
Editors can add visual distortion to any footage using ProVertigo for Final Cut Pro X. Create dynamic scenes that include realistic war zones, super power demonstrations, regaining consciousness, intoxication displays, point of view dizziness, and visually engaging migraines. Fade in, fade out or keep the effect at full blast throughout the entire scene.
Simulate the visual effects of an explosion or flash grenade using ProVertigo. Fade in the effect to create a realistic representation of ocular impairment. To use, simply drag the effect from the Titles Browser and place it directly on top of footage. Place it where the disorientation should start within the timeline and stretch it in the timeline to choose an endpoint.
Unsettle the audience using dynamic shaky camera effects in the Inspector window. First, adjust the amount of movement in the camera. Then, control the speed of the shakiness by moving around the Frequency slider. Manipulate the Noisiness slider to add extra movement and randomize the animation by clicking on the New Shake button.
Adjust the distortion controls in ProVertigo to create a double vision effect. Adjust the opacity to make the duplication more or less visible. Then move the Clone Spread slider to alter the distance of the clone layers to be more near or far from the source. Finally, adjust the Rotation Amount slider to add spinning distortion to the double vision.
ProVertigo provides users with an ample variety of uses. Show viewers the pain and disorientation of an intense migraine, or the disorientation that comes directly after a flash grenade. Users are also able to add realistic dizziness to any point of view shot. Display super powers, intoxication, and many more subjects using ProVertigo for Final Cut Pro X.
Established in 2006, Aliso Viejo, California-based Pixel Film Studios is an innovative developer of visual effects tools for the post-production and broadcast community. Their products are integrated with popular non-linear editing and compositing products from Apple FCPX. Apple, the Apple logo, Mac OS X, and Macintosh are registered trademarks of Apple Inc. in the U.S. and/or other countries. All other trademarks and trade names are the property of their respective owners.