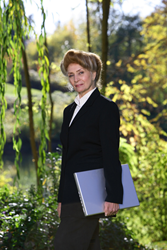 Grants Pass, OR (PRWEB) July 07, 2017
Date aired: June 26, 2017
On her nationally syndicated radio program The Sharon Kleyne Hour Power of Water, Global Climate Change and Your Health on VoiceAmerica sponsored by Nature's Tears® EyeMist®, which aired on June 26th, Kleyne announced that she was taking her listeners on "a little hike" beginning back at the dawn of time.
"Billions of years ago in our living universe," Kleyne began, "a belt of blue substance hung taut around the earth. It was water vapor (we call it atmosphere today). We're not sure what," Kleyne continued, "but suddenly something happened with earth and the universe and the water vapor changed. Over time, it got heavier and heavier until it turned to droplets and began to fall. The droplets—rain—fell and fell until the earth was inundated with fresh water. Its atmosphere was also enriched, charged with invisible water. This water inundation of earth," said Kleyne, "combined with the sun's rays, created life, including human life." Referring to this process, Kleyne made the point that water has always sustained itself.
And just how did the universe go on to gift planet earth with "the greatest miracle of all—human life"? According to Kleyne, the secret was the watery womb of all mothers. That water-world sustained and nurtured babies through their early developmental stages. When they emerged at birth, they immediately began to breathe the life-giving water vapor in the air. "If you don't breathe that water vapor," said Kleyne, "you can't sustain yourself." This process has been true since the beginning of time.
But now, for the first time, the sustainability of water could use a little help from humans. Why? It's because more fresh water is running off into the oceans where it can't be used for agriculture or as drinking water. "People are here on earth to invent," said Kleyne. "We're problem solvers. Whatever your religion might be, you could say that God is in the water," Kleyne continued. "Sustainability is how you keep up your prayer, you worship."
In order to help water sustain itself, we need to slow down the evaporation process by capturing more rain water and allowing some of it to seep down to replenish essential aquifers. Kleyne pointed out that our efforts would need to spark repairs and new development of our water infrastructure. "We need more dams and reservoirs," said Kleyne, "and overall better systems to capture and direct water in appropriate amounts to where it is needed." Kleyne concluded by expressing the hope that listeners would join her on this necessary and exciting water adventure towards new breakthroughs, new technology and a new Water Life Science® lifestyle. Kleyne believes that by working together we can make sure that there will be enough fresh water on the earth for eternity.
"The body living with the planet earth is the miracle of miracles," said Kleyne. "There should be a song; there should be a movie!"