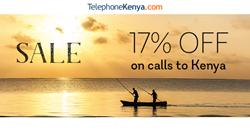 I have been with TelephoneKneya close to nine years and I am very happy with them. I able to call home huddle free and you cannot get better service anywhere else! (Teresia Kabata on Trustpilot.com)
Atlanta, Georgia (PRWEB) July 10, 2017
TelephoneKenya.com, the platform dedicated to Kenyans abroad, drops the rates for international calls to mobiles in Kenya in July 2017, as a temporary promotion lasting for one month. The new rates are now 17% lower and anyone registered on the website can benefit from them.
Calls to mobiles in Kenya are now 9.9 ¢/minute, no matter the country people call from. There is one exception. Calls to Airtel mobile phones in Kenya are now 19.9¢/minute instead of the old rate of 22.9¢/minute. To use the service and benefit from the new rates customers need to purchase Voice Credit balance online for their calls to Kenya or other destinations in the world. The great thing is that any purchase, be it of $2, $5, or higher comes with extras:

Free features to make the international calling experience feel like local calling, in terms of both dialing and prices;
Loyalty points that are added automatically and can later be converted into free calling credit once they amount to 1,000;
Promotional notifications by email;
Free account access at any time to view transactions and call history; there are no account management costs.
The 17% OFF offer is limited to the month of July, 2017. Anyhow, loyalty points continue to be added automatically for any purchase in July, 2017.
The calling service on TelephoneKenya.com requires no contract and no hidden fees apply, which made the service eligible for BBB and TRUSTe certification. Security is also strong and the website received the label "Verified & Secured".
The Voice Credit on TelephoneKenya.com service is flexible in several ways.

The balance never expires, and can be used with no limitations.
Payment is possible in any currency, no matter the country of residence of Kenyan expats;
Payment is possible with any major card, as well as PayPal.
Any Voice Credit customer can add credit to his/her account whenever convenient.
Also, calling is possible in 2 different ways using TelephoneKenya.com balance:

Calls from a smartphone, using KeepCalling app for Android and iOS devices
Calls that don't require an Internet connection and only use an access number in the area of residence, just like a smart alternative to calling cards; yet at much lower rates.
Besides calls to Kenya and other international destinations, TelephoneKenya.com makes available the online service called Mobile Recharge. This is a tool on the website that facilitates mobile credit transfers to mobile phones in Kenya, from abroad. What customers need to do to send mobile credit to their family in Kenya is fill in the online form on the website. The amount gets to the beneficiary in Kenya in seconds and can be used according to the terms of the local operator: Safaricom, Airtel, or Orange.
Both the calling service and the mobile top up service on TelephoneKenya.com are available in the same account, plus one benefits of 24/7 support in English and French.
There are regular promotions for both services, and someone who subscribes to "Get offers" (the button in the footer of the website) will receive email notifications. Also, one can learn about the Mobile Recharge offers on the timeline of the Kenyan community Facebook page: https://www.facebook.com/TelephoneKenya/
TelephoneKenya.com is a mobile-friendly website dedicated to the Kenyan diaspora in the USA, Canada, Australia, Asia, and Europe. The service is a brand of KeepCalling, a global telecommunications company registered in 2002 in the USA. Presently, KeepCalling provides its services to hundreds of thousands of consumers, with a focus on customer satisfaction and transparency of service. KeepCalling was listed by Inc 5000 as one of the fastest growing companies in the USA for 5 consecutive years.