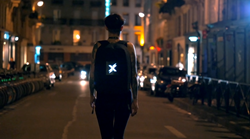 Finding a way to illuminate objects and clothing in an elegant way was our goal
(PRWEB) July 07, 2017
Rock The Street today launch the Lightpack, the world's first electroluminescent backpack with power bank, on Kickstarter.
The Lightpack features an X-shaped logo on the back of the backpack that lights up using its electroluminescent system, allowing users to become visible and safe at night while walking, running, hiking or biking. The bright X-shaped logo symbolizes the crossroads of streets, styles and cultures.
The electroluminescent system has an on/off switch and runs on up to 20,000 hours of
life with low power consumption, is soft and flexible, is not a heat source or lamp and has no emissions of toxic chemicals.
The bag was designed by Sully Sefil, artist and designer of Rock The Street brand who wanted to create the first electroluminescent brand.
"Finding a way to illuminate objects and clothing in an elegant way was our goal," said Sully. "The first product of the Lightwear collection is the backpack and we plan to launch other products such as jackets, caps and handbags in the near future."
The Lightpack also has a number of features throughout the backpack:

Durable and waterproof
Secure opening system that protects from theft
Lightweight and comfortable with adjustable straps and padded back
Capacity of 24 litres and 13 pockets including one dedicated to the storage of a laptop (up to 15 inches) and another specially designed for the power bank.
10 000 mah power bank battery that recharges smartphones or any other rechargeable devices via USB up to five times.
Lightpack is manufactured with a high performance nylon, known for its durability, versatility and for its resistance (abrasion, tearing and scratches).
"This fabric is what many of the most respected brands, retailers and militaries around the world use when they need to make a resistant and durable bag," Sully said. "All contents of the bag are protected from moisture and rain."
For more information and to pre-order, visit the Lightpack campaign page on Kickstarter.
About The Company:
French Savoir Faire is a company of the new economy whose activity is to create, manufacture and market streetwear clothing under the brand "Rock The Street". Beyond its classic streetwear clothing offer, Rock The Street has developed a new product concept: lightwear, the first product of which is the LIGHTPACK, an electroluminescent powered v-backpack. A multidisciplinary team includes Sully Sefil (artist / designer), Pascal Pucci (technical / production manager), Lyess Meddahi (Marketing and Development) and Christian Guillon (Finance).