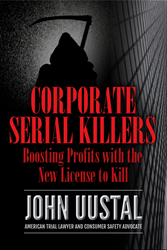 Ft. Lauderdale, Florida (PRWEB) July 07, 2017
Author John Uustal, an elite Florida injury lawyer and consumer safety advocate, is set to address America's brightest on Friday, July 7 at Mensa's 2017 Annual Gathering in Hollywood, Florida.
Uustal's keynote will focus on the message of his upcoming book, Corporate Serial Killers: Boosting Profits with the New License to Kill (Sutton Hart, 2017), wherein the high-stakes advocate exposes massive recent changes in the law that "give wealthy corporations a legal right, or license, and the practical freedom to cheat and kill people."
Mensans, a group whose members have all tested in the top 2% on standardized tests, will learn details on the toxic-to-consumers laws:

Changes in punitive damages
Changes in the law of arbitration
Changes in funding and handling judicial elections
Speaker Uustal will demonstrate the laws' inherent unfairness and the horrific effects on seriously injured victims and their families.
John will spotlight some of America's premier companies with products that serially kill and injure people with the full knowledge of corporate leaders who, because of the law's protections, make decisions on dangerous or defective products based on a malevolent solely profit focused formula:
Cost to Repair a Known Defect vs Cost to Pay off the Maimed and Families of the Dead Victims
The value of human life vs corporate greed calculation happens every day in:
Healthcare
Pharmaceuticals
Auto Industry
Consumer Products
John Uustal is the credible voice of this story as his landmark jury trial victories against banks, auto manufacturers, tobacco companies and others put the spotlight on the worst sort of corporate evil, holding them accountable on behalf one victim at a time.
Media: maggie(at)platformstrategy(dot)com 360.521.0437
About Mensa: Mensa's sole qualification for membership is a top 2% of the population result in standardized testing. A non-profit with the purpose to conduct research in psychology and social science, identify and to foster human intelligence to benefit humanity while serving as a platform to stimulate social and intellectual contacts among its members.
-
About John Uustal: One of Florida's best personal injury lawyers, John's astonishing 7 and 8 figure verdicts in difficult cases come about as he protects grievously injured victims and their families by holding uncaring corporations and insurance companies responsible for their conduct. More http://www.JohnUustal.com Book John for your event through his managing agents at Elite Lawyer Management.