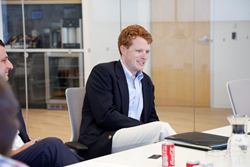 Boston, MA (PRWEB) July 07, 2017
Cybereason, developers of the most effective Total Endpoint Protection Platform including EDR & Next-Gen AV, on Thursday welcomed Congressman Joe Kennedy III (D-MA) to its global headquarters at the John Hancock Tower in Boston's Back Bay.
Congressman Kennedy III met with Cybereason's senior management team to discuss the current landscape of global cyber threats and Cybereason's role in combatting them. Congressman Kennedy III also met with Amit Serpa, Cybereason's principal security researcher, the first person to discover a "vaccine" to combat last week's global NotPetya ransomware attack that disrupted commerce and business in dozens of countries.
"At a time when the threat of global cybercrime and cyber terrorism grows by the day, it is exciting and encouraging to find a Massachusetts company like Cybereason on the frontlines of that fight. By speaking with their employees and leadership team, I gained a deeper understanding of the challenge we face and identified areas where the public and private sectors can partner to both protect consumers and support our Commonwealth's expanding cybersecurity ecosystem," said Congressman Kennedy.
"Cybereason was thrilled to welcome Congressman Kennedy to our global headquarters because he is a national leader on cybersecurity issues and STEM education. Cybereason is proud to be at the forefront of addressing today's greatest cybersecurity threats, from protecting local non-profits and small business organizations through our SecureBoston initiative, to serving our multinational clients across the globe. We appreciated the opportunity to discuss these important issues with Congressman Kennedy," said Lior Div, Founder and CEO of Cybereason.
Founded in 2012 by Lior Div, Yossi Naar and Yonatan Striem-Amit, Cybereason recently announced $100 million in new capital from SoftBank Corp. This new financing coupled with 500 percent growth in revenue in the past year, solidifies Cybereason as the leading cybersecurity startup changing the status quo in the security industry.
About Cybereason
Cybereason is the leader in endpoint protection, offering endpoint detection and response, next-generation antivirus, and managed monitoring services. Founded by elite intelligence professionals born and bred in offense-first hunting, Cybereason gives enterprises the upper hand over cyber adversaries. The Cybereason platform is powered by a custom-built in-memory graph, the only truly automated hunting engine anywhere. It detects behavioral patterns across every endpoint and surfaces malicious operations in an exceptionally user-friendly interface. Cybereason is privately held and headquartered in Boston with offices in London, Tel Aviv, and Tokyo.
For more information, please visit:
Website: http://www.cybereason.com
Twitter: http://www.twitter.com/Cybereason
Facebook: http://www.facebook.com/Cybereason
LinkedIn: http://www.linkedin.com/company/cybereason
Media Contact:
Bill Keeler
Director, Public Relations
Cybereason
bill.keeler(at)cybereason.com
(617) 929-3261