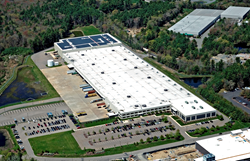 One of the design goals was to maximize the amount of power we could produce on the available roof space of the newer section.
(PRWEB) July 08, 2017
New Bedford, MA: Through a partnership between Beaumont Solar, a leading, full-service solar developer and Engineering Procurement & Construction (EPC) company, and Horizon Beverage, one of the largest wholesale spirits, wine and beer distributors in New England is now powering its operations with clean, renewable solar power. Family-owned Horizon Beverage Company announced today their new 978kW DC solar PV system is in operation at their Norton, MA distribution facility.
Horizon Beverage selected Beaumont Solar to fully engineer, design and construct the system. Consisting of 2,990 solar panels, Horizon Beverage's rooftop solar system will produce an estimated 1,123,000 kilowatt hours (kWh) of electricity annually for the company, lowering their total grid consumption by about 33%. For perspective, this much self-generated electricity is equal to the amount of electricity used by 117 average homes per year.
Since inception, Horizon Beverage has fostered an environment of ingenuity, innovation, and expertise to help suppliers, retailers & restaurant entrepreneurs reach their goals while enhancing the careers of their employees. An important part of this philosophy is also to do this in an environmentally conscious "green" manner. They have implemented company-wide sustainability initiatives to lead responsibly in the beverage distribution industry such as paper-use reduction and recycling approximately 30 million bottles annually. The addition of solar power to their environmentally friendly practices was a natural next step.
"Last Fall we moved forward with the decision to power our Norton, MA facility with solar energy. Offsetting our carbon emissions and increasing our energy efficiency is beneficial to the environment and significantly lowers our energy costs," said Michael Epstein, the company's Executive Vice President and Chief Operating Officer. Horizon Beverage's power costs are now predicable, and represent a significant savings to their bottom line through lowered operating costs which they can then convert to added value for their customers
Beaumont Solar designed the system with a lightweight, ballasted racking component to accommodate the weight load parameters of the roof of the facility's newer section of the building. "One of the design goals was to maximize the amount of power we could produce on the available roof space of the newer section. After evaluating all the options with the Horizon Beverage team and the Beaumont Solar engineering team, the decision was made to go with SunPower panels for this system," said Phillip Cavallo, President and CEO of Beaumont Solar. "These panels yield a higher production efficiency thereby increasing the total system output."
Along with an in-house engineering and design team, Beaumont Solar possessed the necessary construction resources to self-perform the installation with their "Big C" Construction Services Unit, utilizing nearly 20 of the company's licensed electricians at times. They also had the internal team to secure an SREC 2 reservation for Horizon Beverage and complete the system on time to meet DOER qualification deadlines. Although the net metering cap in National Grid territory had already been hit, Beaumont Solar also secured Horizon Beverage a place in the application waiting line early on, which paid off; the system ended up being awarded a full net metering reservation as other projects fell out of the queue, just as the system was about to come online.
"We are pleased to be an energy partner with Horizon Beverage by helping to further enhance their energy conservation goals and obtain the most financial incentives possible. Our entire team thanks them for this opportunity and congratulates Horizon Beverage on their decision to utilize clean, solar power," said Cavallo.
About Horizon Beverage Company
Horizon Beverage is New England's leading spirits, wine and beer distributor, connecting a network of makers, retailers and consumers across the region. Founded in 1933, Horizon is now in its fourth generation of family ownership, with more than 725 team members throughout Massachusetts, Rhode Island, New Hampshire, Maine, and Vermont. http://www.horizonbeverage.com
About Beaumont Solar
Beaumont Solar is a leading, full-service solar developer and Engineering, Procurement & Construction (EPC) company. We specialize in the development, design, building and long-term operation & maintenance (O&M) of solar systems in the commercial & industrial (C&I), utility, agriculture and public sectors. With a long history dating back to 1918, we have the experience, infrastructure and expertise to help maximize the value of underutilized assets (rooftop, carport, landfills, hazmat sites, and land). We help structure financing; both debt and tax equity, provide off-taker power agreements and ground or rooftop leases and determine site feasibility. Beaumont works closely with customers to help them meet financial, energy and sustainability goals by identifying the most efficient systems and cost effective financing. With offices in MA, RI, and NJ, we provide installation and support across the USA. To learn more, please visit http://www.beaumontsolarco.com.