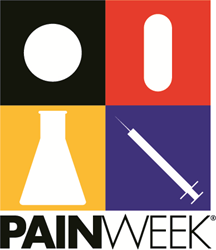 The Pain Educators Forum track offers fundamental knowledge building blocks that form the basis for treating patients experiencing pain.
Montclair, NJ (PRWEB) July 10, 2017
PAINWeek®—the largest US pain conference for frontline practitioners—is celebrating its annual meeting. Joining the conference will be the American Society of Pain Educators (ASPE) presenting its Pain Educators Forum. PAINWeek faculty member David Glick, DC, DAAPM, CPE, FASPE, commented, "The Pain Educators Forum track offers fundamental building blocks that form the basis for treating patients experiencing pain. What makes the ASPE track even more unique is that it exemplifies the 'education is the best analgesic' concept, which is echoed throughout the entire PW conference. It is not just the didactic information, but how we teach or explain such information to other practitioners to better help provide and coordinate patient care. What better way to ensure patient satisfaction by being able to establish realistic treatment goals, especially in a climate when patient satisfaction is measured and may even influence reimbursement?" Dr. Glick is CEO & Medical Director of HealthQ2 in Richmond, Virginia.
Thomas Gregory, PharmD, BCPS, CPE, FASPE, who will also be presenting at PAINWeek, commented, "The decade of pain control has ended and a time of fear and retaliatory policy appears to be upon clinicians who treat patients with pain. Federal and state officials are reacting to the daily reports of illegitimate opioid use and causing pain patients to bear the brunt of their decisions." Dr. Gregory, an emergency medicine pharmacist, continued, "To stem the tide of sweeping legislative efforts AND to keep patients safe, we must continue to work at the grass-roots level and educate. The education is not only for pain clinicians, but for patients, colleagues, and the public in general. Through education, clinicians can walk the line between safety and efficacy of legitimate opioids and continue to have a positive impact on pain patients, but also public health in general."
Presenter Ted Jones, PhD, commented, "We need pain educators and pain education more than ever before. Providers who treat pain are under siege from many sides. Rather than stopping the treatment of pain—which some have decided to do—we need to be better. We need to 'up our game.' And I think doing better will not best be accomplished with some new chemical or some new injection technique. Doing better means we need more knowledge about pain treatment, more knowledge about educating patients, more knowledge about prescribing opioids. Now is not the time to retreat—now is the time to get better and pain education is the key to this improvement." Dr. Jones is a clinical psychologist at the Pain Consultants of East Tennessee in Knoxville.
Wednesday, September 6, sessions include Pain Terminology: Knowing the Difference Makes a Difference; Pain Pathophysiology Unraveled; Chronic Pain Assessment; Pain Diagnostic Methods; and Pain Therapeutics. Day 2, on Thursday, September 7, includes the following courses: Flipping the Script: Why We Need a Patient REMS Course; You're Giving Me an MI: Incorporating Motivational Interviewing Into Challenging Conversations; and ¿Donde Duele? An Introduction to Basic Spanish for Healthcare Professionals.
Convening at The Cosmopolitan of Las Vegas September 5-9, PAINWeek 2017 expects to welcome over 2300 physicians, nurses, pharmacists, and other healthcare professionals for a comprehensive program of course offerings, satellite events, and exhibits. Additionally, over 100 exhibitors will be participating at the Exhibit Hall, commencing with the traditional Welcome Reception on Wednesday evening.
Peruse the Schedule at a Glance, available at painweek.org/schedule, for a comprehensive overview of tracks and courses. As at prior PAINWeek conferences, the 2017 curriculum will feature a wealth of course concentrations, including behavioral pain management, health coaching, interventional pain management, master classes, medical/legal, neurology, palliative care, pharmacotherapy, physical therapy, as well as special interest sessions such as Opioid Sparing: Treating the Whole Patient; The Octopus From Hell: Exploring 8 Extremities of Chronic Pain; and Drinking From a Fire Hose: Educating Stakeholders at the Speed of Sound.
The PAINWeek curriculum now encompasses over 120 CE/CME course hours, enabling attendees to earn up to 35.5 AMA PRA Category 1 Credits.
A registration discount is available until the end of this month. For more information or to register, visit http://www.painweek.org.
PAINWeek is provided by Global Education Group. About Global Education Group:
Global Education Group focuses on producing partnership-based CME for healthcare practitioners. The Global team works with a select group of medical education companies, associations, academic institutions and healthcare facilities to develop and accredit live healthcare conferences and workshops as well as online activities. With each partnership or joint providership, Global brings accreditation expertise, project management excellence and grant funding intelligence. Based in Littleton, Colo., Global has accreditation with commendation from the ACCME. Global also holds accreditations to offer continuing education for nurses, nurse practitioners, pharmacists, dietitians, dentists and psychologists. Global is a division of Ultimate Medical Academy.
###