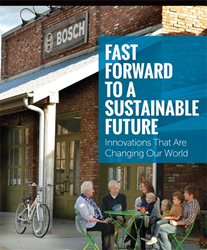 Lake City, CO (PRWEB) July 10, 2017
What's the latest in sleek, modern design and cutting edge technology that helps bring sustainable ideas to life? The latest Ebook produced by Green Builder Media delves into innovations the address climate change, super energy efficient housing, resource consumption, smart transportation, and much more.
Broken into quick-read chapters, the book highlights:

On the Path to Net Zero. A look at high-performance housing developments that bring energy efficiency and new technology to communities around the country.
A Building Scale DC Microgrid. Learn more about a direct current (DC) microgrid in a Honda parts distribution center that will connect solar arrays to DC-based energy storage and loads.
The Intersection of Smart Cities and Connected Mobility. Discover the innovations in technology that reduce environmental impact and improve quality of life in cities.
European Styling and Technology for American Homes. What's the trend? Small. See the thoroughly conceived compact appliances that appeal to urban dwellers and downsizing empty nesters alike. Plus, a look at another tech that originated in Europe: tankless water heaters, which are now cheaper and more popular than ever.
Power Tool Batteries: A Technology Story. Lithium-ion batteries are the go-to power source for power tools, and wireless charging is making battery-operated power tools even more efficient.
Charging Ahead. Here's how charging technology is becoming simpler and more efficient, which will help accelerate demand for electric vehicles.
The Changing Face Of Home Security. Learn about the newest residential security systems that incorporate smart home technology and greater user control. Plus, smart security can also double as an energy watchdog.
"Pick up Paul Hawken's new book, 'Drawdown,' and you'll find a long list of innovations with the potential to address climate change, at the same time improving our overall quality of life," says Green Builder Editor-in-Chief Matt Power. "It's no coincidence that many of these ideas intersect with products and projects already being explored by forward-thinking manufacturers. Take the Bosch Group, for example. The company's vision for the future includes net-zero housing, reducing resource consumption, finding new forms of transportation, and making smart technology work hard to improve our lives."
Check out the most inspiring and informative collection of articles about the future of sustainable innovation. Download "Fast Forward to a Sustainable Future" today at http://www.greenbuildermedia.com/free-ebook-fast-forward-to-a-sustainable-future.
To learn more about this Ebook or about Bosch at the Flex House, contact Green Builder Media Chief Development Officer, Cati O'Keefe, at cati.okeefe(at)greenbuildermedia(dot)com.
About Green Builder Media
Green Builder® Media, LLC is the nation's leading media company focused on green building and sustainable living, affecting positive change by providing inspirational information to over 200,000 progressive building professionals and 38 million consumers who are interested in sustainable living. With a comprehensive suite of content marketing, digital, social, and print media options, high-profile demonstration projects, market research, and live events, Green Builder Media offers a blend of visionary and practical information covering a broad spectrum of sustainable living topics, including Internet of Things, smart home technologies, energy efficiency, water conservation, indoor air quality, resilient housing, renewables and clean transportation. For more information, visit http://www.greenbuildermedia.com.