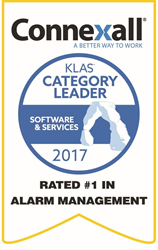 Boulder, CO and Toronto, ON (PRWEB) July 11, 2017
Connexall Announces Next Generation Mobile App: MobileConnex
Mobile Access to the Industry's Leading
Alarm Management/Event Notification Software
Connexall, Category Leader for Alarm Management in the 2015/2016 and 2017 Best in KLAS awards, is pleased to announce the release of the next generation of its enhanced mobile app: MobileConnex.
Using MobileConnex, staff can seamlessly integrate to the Connexall platform regardless of their location (inside or outside the facility). MobileConnex is intuitive and user-friendly making it simple to obtain and view important information.
As every healthcare facility strives to provide excellent and comprehensive patient care while maintaining patient safety, real-time access to essential information provided by MobileConnex enables the achievement of that goal. The ability to have an intelligent view of departments, units, devices, applications, tasks and people as well as alarm status and a history of notifications are some of the capabilities available when utilizing MobileConnex. MobileConnex gives you the power of Connexall in the palm of your hand.
MobileConnex is available on iOS, Android, and web browsers.
"Connexall pioneered mobile application development more than a decade ago for the mobile computing platforms of the day such a Blackberry, Windows Mobile, and the newly introduced iPhone." stated John Elms, Connexall's president. "We are delighted to bring forth this next generation mobile application to put the power of Connexall in the hands of our customers." continued Elms.
About Connexall
Connexall, ranked number one and named Category Leader in the 2015/2016 and 2017 Best in KLAS awards, is an enterprise-grade event management and control platform that delivers hospital-wide interoperability to people, systems, tasks, and devices. Its capabilities act as a backbone for clinical workflow, communicating the right information to the right person, at the right time, on the right device. Based on more than 20 years of R&D efforts, the Class II medical device software is completely vendor-neutral and device-independent. Connexall has offices in Canada, the United States, Brazil, Portugal and Hong Kong and works with well over a thousand of the world's most renowned and progressive hospitals and health systems. For more information please visit http://www.connexall.com.
####
Connexall Contact
Betsy Berken-Zaslav
(866) 556-3377
bzaslav(at)connexall.com