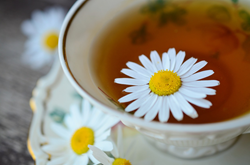 Intraperitoneal administration of API increased the median survival...and reduced the risk of tumor growth.
Raleigh, NC (PRWEB) July 08, 2017
Doctors at the University of Rome say a plant compound found in parsley, celery, and chamomile tea could have "important implications" for the future of malignant mesothelioma treatment. Surviving Mesothelioma has a new article on the study. Click here to read it now.
Apigenin (API) is a flavonoid that has been the focus of a number of laboratory and animal studies. The new study in Frontiers in Pharmacology is the first to study its effects on mesothelioma cells.
"Intraperitoneal administration of API increased the median survival of C57BL/6 mice intraperitoneally transplanted with #40a [human mesothelioma] cells and reduced the risk of tumor growth," writes lead author Dr. Laura Masuelli. "Our findings may have important implications for the design of malignant mesothelioma treatment using API."
When applied to mesothelioma cells in the laboratory, API inhibited cell survival, increased the production of damaging reactive oxygen species, and caused DNA damage.
"The new apigenin study is just the latest in a growing number of studies that suggests plant compounds may play a more significant role in mesothelioma treatments in the future," says Alex Strauss, Managing Editor for Surviving Mesothelioma.
For all the details of the new apigenin study and more on plant compounds in mesothelioma treatment, see Chamomile Tea May Hold the Secret to Longer Mesothelioma Survival, now available on the Surviving Mesothelioma website.
Masuelli, L, et al, "In Vitro and In Vivo Anti-tumoral Effects of the Flavonoid Apigenin in Malignant Mesothelioma", June 2017, Frontiers in Pharmacology, ePub, http://journal.frontiersin.org/article/10.3389/fphar.2017.00373/full
For more than a decade, Surviving Mesothelioma has brought readers the most important and ground-breaking news on the causes, diagnosis and treatment of mesothelioma. All Surviving Mesothelioma news is gathered and reported directly from the peer-reviewed medical literature. Written for patients and their loved ones, Surviving Mesothelioma news helps families make more informed decisions.