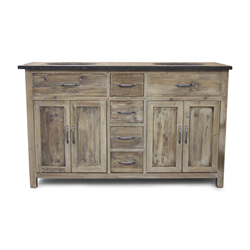 Broomfield, CO (PRWEB) July 10, 2017
Trade Winds Imports is announcing a new line of "Woodland Collection" vanities. These rustic farmhouse style vanities are made with 100% reclaimed wood from barn doors, textile mills, and abandoned school buildings. This is part of Trade Winds Imports' initiative to widen their variety of green products for eco-conscious customers, in addition to providing exceptional choices in style and quality.
Rather than relying on tree farms or forest wood, the Woodland Collection is completely made up of 100% solid, reclaimed pine that has been repurposed to fit your bathroom. Each vanity can be said to have its own story, with most furnishings built from wood more than 100 years old from various abandoned buildings that would otherwise have been destined for landfills. Less factory energy is used to cut and transport the lumber, adding to their eco-friendly nature.
Because of the unique nature of each building and piece of wood, no two vanities are alike. Given the varied nature of the wood, Trade Winds Imports holds each piece to high manufacturing standards and inspects each piece before it leaves the warehouse. Professional craftsmen hand-make each vanity, keeping the reclaimed wood pieces as intact as possible. The natural wood grain patterns vary from piece to piece, sometimes including character-building knots, and then they are finished with a "distressing" look that adds to its personality and reflects its unique past. Because the wood is all reclaimed and restored, some pieces have small holes that have been repaired with quality restorative wood filler. Each piece receives an individual quality assurance check to ensure that it is in top condition before reaching your home.
In an ever-more eco-conscious world, Trade Winds Imports is constantly seeking new ways to provide beautiful, quality bathroom vanities and other products to customers who are conscious of the planet and interested in decreasing their carbon footprint. "We are excited to offer this new line," says Marketing Manager Michael Bowman. "Each piece has a story as unique as its appearance, and because of the individual nature of each piece we make sure to guarantee their quality." He adds that the company is always looking for sustainable products to share with the world.