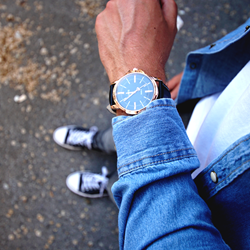 Toronto, Canada (PRWEB) July 11, 2017
LMTS Watches, a fresh and inspired new luxury watch company, will launch and begin their campaign journey on Kickstarter and Indiegogo this week. The company has seamlessly designed five watches in their collection to exhibit premium quality along with immaculate features all for the fraction of the retail price. Over the past year LMTS has worked tirelessly to create and design their releasing (Push Your Limits Collection) that not only captures all details of a standard luxury watch, but each watch also has an extremely unique and captivating element. The watches are hand crafted with Italian leather, the movement inside is Japan Made VX3F Semi-Mechanical Quartz, all encompassed by a 316L stainless steel case.
After various prototypes, this specific collection was chosen to launch on Kickstarter and Indiegogo, as each timepiece displays a distinctively different and sophisticated appearance, compared to leading watch companies in the crowd-funding world. In hopes of gaining a strong momentum and genuine customer approval, the company launched their campaign Monday July 10, 2017 on both Indiegogo and Kickstarter where anyone can support and back the LMTS project. Marketing and Branding director Elena Galifi said: "The countless hours and hard dedication our company has put into the designing and manufacturing of the LMTS collection is truly displayed through the exceptional exterior of each watch. Our main goal was to create immaculately engineered timepieces, that all men would feel confident wearing, all while not breaking the bank in the process."
The collection was designed to push the boundaries of luxury watch innovation, and strike a movement with leading crowd-funding watch competitors. Starting off with a modest goal of $50,000 in pledges for both Kickstarter and Indiegogo, the company has an optimistic outlook and is extremely hopeful that the Push Your Limits Collection will generate strong customer satisfaction. The company understands that in today's day and age the rise of technologically advanced watches is becoming a popular competitor, however LMTS strongly believes that the need for a luxury men's watch is a timeless appreciation that regardless of the progressing times, will never go out of style. LMTS is constantly learning and growing and aspires to introduce a women's collection as well if their campaign generates success.
LMTS Social Media
Instagram https://www.instagram.com/lmtswatches/
Facebook https://www.facebook.com/LMTS-Watches-330214087391866/
Back The Campaign Today
https://www.kickstarter.com/projects/457610247/lmts-watches-push-your-limits
https://www.indiegogo.com/projects/lmts-watches-push-your-limits-fashion-style#/