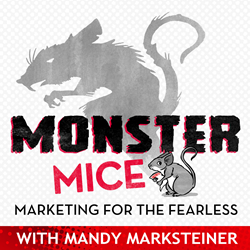 It's not about building better mousetraps. It is, however, about building larger mice, and then building terrifying fear of the mice in your customers
Los Alamos, NM (PRWEB) July 09, 2017
Mandy Marksteiner, a Los Alamos based marketing consultant who specializes in content marketing, launched a new podcast for business owners and entrepreneurs, called Monster Mice. During the show, Mandy Marksteiner interviews marketing experts and delivers tips and techniques that can be applied immediately to any type of business. It is produced by David Wolf, the host of the Smallbiz America Podcast.
The title is based off of a quote from the legendary copywriter Eugene Schwartz, from his book Breakthrough Advertising: "It's not about building better mousetraps. It is, however, about building larger mice, and then building terrifying fear of the mice in your customers."
Ten episodes of Monster Mice are available.
Episode 1-3 with Joshua Shafran: "How to create a Perpetual Impact Platform."
Episode 4 with Sean Kaye: "How to build on online business in your free time."
Episode 5 with Heather Robson: "How to increase your email marketing ROI."
Episode 6 with Lauren Hazel: "How to build your brand with storytelling."
Episode 7 with Charles Bram: "How to grow your fitness business"
Episode 8 with Mary Rose Maguire: "Research your target market (… and reap the rewards!)
Episode 9 with Stephanie O'Dea: "How to turn your personal interests into an online business."
Episode 10 with Kim Krause Schwalm: "How to find hidden nuggets of gold in your business."
Monster Mice is available on iTunes and on her website at http://www.mandymarksteiner.com.