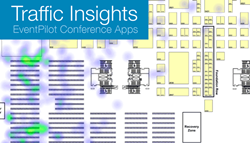 We give organizers holistic traffic insights while also adding the benefit of a full indoor navigation system
Walnut, CA (PRWEB) July 11, 2017
ATIV Software today released attendee 'Traffic Insights', an affordable indoor traffic visualization solution for EventPilot, the only conference app designed for large scientific, technical, and medical events (STM). The new Traffic Insights analytics are built on the existing indoor navigation feature and provide meeting organizers traffic flow heat maps and key metrics for data-driven decisions and planning large exhibitions or trade shows. Learn more at http://ativsoftware.com.
"The traffic data is invaluable - especially the peak times. I can share this with our exhibitors to ensure they are fully staffed during those hours," said Diedra Crawford, Industry Sales and Operations Director, Digestive Disease Week.
Organizers receive anonymous aggregate Traffic Insights analytics that help detect hot spots and low traffic areas in the expo hall. Event planners can use the near real-time analytics to improve or redirect attendee traffic flow even during the meeting. Interventions, such as a differently positioned coffee cart on day 2 or a new gamification activity that drive attendees to walk through less-visited aisles, can change attendee behavior and improve the exhibitor and attendee experience.
Traffic Insights uses a combination of low-cost BLE iBeacon technology and the EventPilot conference app. Meeting attendees already rely on the specialized event app to navigate thousands of scientific research posters and hundreds of vendors. Through a variety of notifications and settings, attendees control their privacy level and can easily opt out of sharing their position data in the exhibit or poster hall. This makes the implementation seamless and affordable for meeting planners at large events.
"Our event apps are first and foremost designed to help attendees navigate large medical and scientific meetings," said Eric Converse, CTO and Co-Founder of ATIV Software. "Unlike other attendee traffic tracking solutions, EventPilot gives organizers holistic traffic insights while also adding the benefit of a full indoor navigation system that guides attendees to a specific expo booth or scientific research poster."
Availability
Attendee Traffic Insights are available as part of the Indoor Navigation Module that can be added to any new EventPilot implementation.
About ATIV Software
ATIV Software publishes the leading medical conference app EventPilot for large healthcare and scientific meetings. ATIV has been innovating medical meeting apps since 2010, the birth of meeting apps, and works with the leading registration and abstract management vendors for easy data import of thousands of research abstracts. EventPilot is a complete mobile event solution for all platforms to make paperless meetings a reality while engaging attendees through advanced event technology.