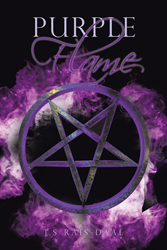 EDINBURGH, Scotland (PRWEB) July 10, 2017
An Edinburgh-based author has combined his love of writing and ancient mythology in his new book, "Purple Flame."
'Flame,' written by author J.S. Rais-Dall, follows teenager Zach Ford and his chaotic life. Following the death of his family due to a car accident, he is struggling to keep it together. As the days go by, one would think the grief of losing his family, the stress of school and the constant ridicule of bullies and teachers would wear him down, but it is in fact something much more sinister: possession.
Rais-Daal has long been interested in ancient mythology and demonology. A longtime writer, he decided to move forward with sharing his story.
"I find that darkness brings another level to writing," said Rais-Daal. "It makes the usual themes and storylines warped and it makes the struggle that much more visceral. I've been writing since I was 10 and it is only now that I'm beginning to understand why I enjoy writing."
"This book reads like a slightly darker, British Buffy the Vampire Slayer, before finding its own voice and veering into territory more epic that one many initially expect from the school setting," a reviewer wrote in a four-star review of "Purple Flame." "All of the characters are well drawn and read as genuine teenagers. It's clever, carefully written and hugely enjoyable."
To learn more about the book and the author, please visit his website.
"Purple Flame"
By J.S. Rais-Daal
ISBN: 978-1-5246-7887 (softcover); 978-1-5246-7888-3 (hardcover); 978-1-5246-7886-9 (electronic)
Available at AuthorHouse Publishing, Amazon and Barnes & Noble
About the author
J.S. Rais-Daal is an author based in Scotland and lives with his wife and daughter. In his free time, he enjoys fire spinning and live action role play.
###
Review Copies & Interview Requests:
LAVIDGE – Phoenix
Chris Peña
480-998-2600 x 519
cpena(at)lavidge(dot)com
General Inquiries:
LAVIDGE – Phoenix
Bryan Beach
480-998-2600 x 510
bbeach(at)lavidge(dot)com