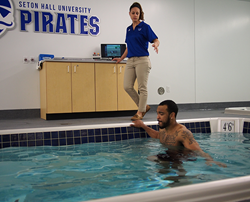 Middletown, PA (PRWEB) July 07, 2017
Speed and agility: The two most essential abilities of any athlete. Competitive-minded recreational fitness enthusiasts and elite pros continuously strive to raise the bar when it comes to enhancing their talents in these areas. As such, they continuously look for innovative ways to work their bodies to the max, ideally without putting undue stress on muscles, joints, ligaments or bones. Not surprisingly, many have turned to aquatics for low-impact, high-return outcomes.
At Seton Hall University, Tony J. Testa, MEd, ATC, CSCS, has long tested aquatic training in his role as Director of Sports Medicine, a position he's held since 2009. As coordinator of and provider for student-athlete medical services at the institution, he also works with men's basketball and baseball team players. Testa's focus on developing novel, impactful aquatic training regimens in his facility's HydroWorx advanced therapy pool with underwater treadmill and resistance jets has allowed the athletes under his charge to improve their speed and agility while limiting overtraining and overuse injury risks.
On Tuesday, July 11, 2017, from 1:00 to 2:00 p.m. E.D.T., Testa will share his experiences working in the aquatics realm during this free webinar, "Utilizing Aquatics for Speed & Agility Training". During the discussion, he will build the conversation upon his current expertise, plus his years as a student at Southern Connecticut State University and Temple University, professional positions at Columbia University, Northeastern University, and St. Peter's College; and his time as USA Weightlifting's athletic trainer.
"Utilizing Aquatics for Speed & Agility Training" promises to educate participants on a number of essential topics surrounding aquatics and athletic achievement, including:

Why water is an effective and safer environment for the enhancement of athletic speed and agility in healthy individuals.
What the progression of speed training looks like from warm-up to cool-down.
How to focus on linear acceleration and change-of-direction drills in an aquatic therapy pool with an underwater treadmill.
How to keep athletes' speed and endurance days varied throughout a typical hydrotherapy regimen session.
Why video analysis provides an excellent snapshot of protocol progress and how to take advantage of video.
Additionally, Testa will showcase demonstrations of the underwater running drills and exercises he uses with his athletes to better illustrate his points throughout the course of discussion. At the conclusion of the webinar, attendees will have the opportunity to ask Testa questions related to aquatic-based speed and agility training.
To register for "Utilizing Aquatics for Speed & Agility Training", interested attendants can visit the HydroWorx website and sign up to reserve a spot.
About HydroWorx
Since the late 1990s, HydroWorx has manufactured aquatic therapy products with integrated underwater treadmills to enable rehabilitation professionals to more effectively offer their patients the opportunity to increase range of motion, decrease risk of falls and joint stress, and remain motivated through the rehab process.
Products such as the HydroWorx 2000 and 500 Series therapy pools, along with the HydroWorx 300 system designed for existing facilities have revolutionized the face of aquatic therapy; in fact, HydroWorx technology is used by world-class facilities like the renowned Kennedy Krieger Institute, Cleveland Clinic, Frazier Rehab Institute and The Andrews Institute, as well as many elite athletic programs including the Kansas State University, Clemson, Michigan State, New York Giants, The Penn State University, Manchester United and Chelsea Football Clubs and hundreds more.
HydroWorx offers a wide range of underwater treadmill pools and peripheral products and services. Every day, more than 30,000 athletes and patients use HydroWorx technology to recover from injuries and health conditions.
More information about HydroWorx can be found at http://www.HydroWorx.com.