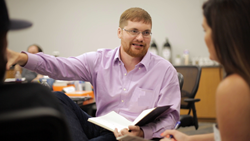 It's safe to say that Jason is by far the leading expert on successful webinar strategies and tactics.
Valencia, California (PRWEB) July 07, 2017
Rapid Crush Co-Founder and Chief Strategy Officer Jason Fladlien shared his tested and proven webinar success strategy with Entrepreneur.com, receiving a featured spot titled "12 Steps for Creating the Perfect Webinar" on the international business publication's website.
This step-by-step guide offers online marketers a practical foundation upon which to build their own webinars. The framework described throughout the 12 steps in the Entrepreneur.com article features the experience, information and knowledge Fladlien has accumulated in over a decade of online selling. With this strategy, digital marketers at any experience level can enhance their webinars to boost enthusiasm, interest and, of course, sales.
Fladlien first started selling in 2007 and has since brought his figures to more than $100 million in webinar-based product sales. Even before he began selling his initial $4 product, he was already working on creating the ideal pitch. Fladlien understood that the presentation makes the sale. With that powerful focus, he used his time to polish his strategy to the point that it was, and continues to be, consistently and permanently successful.
He has spent more than 10,000 hours in this area of expertise, having completed more than 50 individual webinar pitches and more than 300 live webinars. Today, celebrities and other high-profile personalities consult with him to develop and design their own webinars, each of which is based on the 12 points outlined in the Entrepreneur.com article.
Jason Fladlien co-founded Rapid Crush with Wilson (Wil) Mattos in 2011 and remains profoundly involved in their goal of powering ambition among their clients by way of education, growth and sales.
ABOUT RAPID CRUSH
Rapid Crush, Inc. was founded in 2011 by Jason Fladlien and Wilson Mattos and is based in Valencia, California (just North of Los Angeles). Rapid Crush provides streamlined services and top notch education in digital marketing. Rapid Crush helps drive annual seller sales volume that now exceeds $125 Million in over 20 countries. With teams on every continent (except Antarctica), the sun never sets on Rapid Crush.