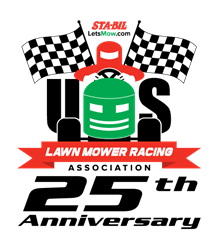 "No matter where you mow, there you are." - USLMRA President Bruce Kaufman "Mr. Mow It All."
Northbrook, IL (PRWEB) July 11, 2017
For a quarter of a century, people have been souping up their lawnmowers (yes, lawnmowers) to race for bragging rights. This month, the U.S. Lawn Mower Racing Association (USLMRA) and its sponsor, STA-BIL brand Fuel Stabilizer, will celebrate the 25th birthday of nationally-sanctioned lawn mower racing with an international turf battle featuring the British Lawn Mower Racing Association during the 13th Annual St. Mary's County National Lawn Mower Races. The races will take place July 28-30 at Bowles Farms in Clements, MD and will feature turf titans from 17 states along with the triumphant return of the British Lawn Mower Racing Association (BLMRA) which last visited American shores in 2000 for the Rider Cup.
"When the British last visited America, they kicked grass with their own machines they brought from England," quipped USLMRA President and "Mr. Mow it All, Bruce Kaufman. "This time the British will be racing on machines provided by their American counterparts, so anything mows!"
British Team members include current and former British and World Champions who have raced in England, Germany, France and Luxembourg. American racers include racing champions from Florida, Georgia, Indiana, Maryland, Ohio, North Carolina and South Carolina.
The British Race Weekend will also feature the annual induction ceremonies for the National Lawn Mower Racing Hall of Fame. On Sunday, July 30, the Rocket Man Racing Team and a surprise honoree will be inducted into the pantheon of sod slinging glory. Led by grandpa Pat "Rocket Man" Sullivan of Venice, Fla, Rocket Man Racing features three generations of lawn rangers including Pat, his son, daughter, son-in-law and four grandchildren.
Founded on April Fool's Day 1992, the USLMRA was closely modeled after the BLMRA which sprouted in 1973. Both groupsshare the same values and vision: never race for money, race for fun, always display good sportsmanship and raise money for good causes.
The event will benefit the 7th District Rescue Squad of St. Mary's County Maryland and the St. Mary's County Optimist Club.
The USLMRA sanctions and presents organized lawn mower racing across America including the 18-race STA-BIL National Lawn Mower Racing Series and a network of 50 Local Chapters and Affiliated Clubs hosting more than 250 sanctioned races nationwide every year. STA-BIL lawn mower racers compete in ten classes with all cutting blades removed for trophies, points and bragging rights. Since its inception, the USLMRA Title Sponsor has beenSTA-BIL Fuel Stabilizer, the industry leader in proper fuel management. Associate sponsors include K&N Filters and M.E. Miller Tire Co.
Founded in 2009, the USLMRA National Lawn Mower Racing Hall of Fame is a place of honor for Turf Titans who have turned a weekend chore into a competitive sport. The USLMRA National Lawn Mower Racing Hall of Fame & Museum of America is located at Miller Lawn and Power, 1299 Harding Highway East State Road 309, Marion, Ohio.
For more information please visit http://www.letsmow.com.