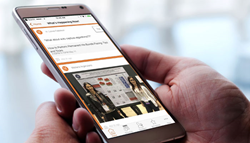 Collect satisfaction ratings for ongoing conference sessions in near real-time
(PRWEB) July 11, 2017
ATIV Software today released new attendee engagement features for the EventPilot conference app that allow event professionals to easily collect attendee satisfaction in real time during the event. The new semi-private dynamic social activity channel combined with instant satisfaction prompts can generate a 20% increase in user interactions with the conference app while providing meeting organizers with invaluable data points. Learn more at http://ativsoftware.com.
"Meeting planners can now keep their finger on the pulse of their event as the EventPilot conference app helps them collect satisfaction ratings for ongoing sessions in near real-time," said Silke Fleischer, CEO and Co-Founder of ATIV Software. "A single effortless tap by attendees can greatly impact future event planning - the EventPilot conference app is the perfect tool to collect the data."
EventPilot conference apps are taking instant session satisfaction feedback to the next level with a new Session Rating feature. While meeting organizers can include traditional web-based session evaluations and post-event surveys, the majority of conference attendees are often too busy to complete a full questionnaire. The smart animated design of the meeting app's new rating system encourages users to reflect their satisfaction level during and shortly after the session. At a recent event, about 80% of the nearly 3,000 sessions and presentations were rated by 60% of active app users. Meeting planners can access the reports at any time via the conference app's online portal and alert staff to gather more information if a session receives below average results.
The session rating prompts are aligned with an attractive activity feed, which helps boost rating participation. The meeting app's new feed blends public Twitter, with a semi-private and event specific social channel for session-level comments and conference photos.
Availability
The new version is available immediately for all new EventPilot conference app implementations.
About ATIV Software
ATIV Software publishes the leading medical conference app EventPilot for large healthcare and scientific meetings. ATIV has been innovating medical meeting apps since 2010, the birth of meeting apps, and works with the leading registration and abstract management vendors for easy data import of thousands of research abstracts. EventPilot is a complete mobile event solution for all platforms to make paperless meetings a reality while engaging attendees through advanced event technology. http://www.ativsoftware.com