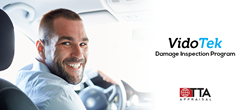 Our VidoTek Damage Inspector Program gives rideshare drivers the opportunity to supplement their Uber or Lyft income in quite an appreciable way.
Murrieta, California (PRWEB) July 10, 2017
Any time an insurance claim is filed for an auto accident, the insurance company in question must obtain an appraisal of the damage, letting them know roughly how much repairs will cost. To expedite claims and to keep policyholders happy, it is essential for these evaluations to be conducted quickly—which is why many insurance companies trust their damage appraisal services to the professionals at TTA Appraisal. Now, as part of their 'Full Spectrum Service' approach, TTA is rolling out their VidoTek Damage Inspector Program, which will enable insurance companies to turn claims around more rapidly than ever—and the company is looking for rideshare drivers to join their effort.
"Our VidoTek Damage Inspector Program gives rideshare drivers the opportunity to supplement their Uber or Lyft income in quite an appreciable way," says Jon Gironda, CEO of TTA Appraisal. "It adds versatility. Based on the average drive and inspection times, we're confident many drivers will find our program to be a great way to supplement their income while out on the road."
Here's how the program works. A 'VidoTek' will receive the location of a nearby vehicle that's in need of damage appraisal. Upon setting up an appointment with the vehicle owner and arriving at the vehicle location, the VidoTek inspector will use the 'VidoSee' app to connect by live stream video with a TTA virtual appraiser. The VidoTek is then guided throughout the damage inspection, taking the required high quality photos that an in-house appraiser back at TTA's centralized home base, can review and then make a prompt and accurate report for the insurance company. A single inspection only takes the driver mere minutes, and the pay is great.
The end result? An easy way for drivers to supplement their ridesharing income, without the need for any technical training or advanced knowledge of the appraisal industry. (Passing a basic criminal background check is the primary requirement for interested drivers.) For policyholders and insurance companies, meanwhile, the nationwide network of VidoTeks ensures the fastest possible turnover on vehicle damage claims.
The VidoTek program continues TTA Appraisal's innovation within the damage assessment industry—and provides further example of their commitment to fast, accurate, hassle-free appraisals. Those interested in joining the nationwide network of VidoTek drivers may visit the signup page located at: https://www.tta-appraisal.com/join-vidotek-program/.
ABOUT:
Founded in 1998 as a regional independent appraisal company, and then expanded to a national scale in 2010, TTA Appraisal has grown to be not just the nation's largest provider of heavy truck and equipment damage appraisal, but also a leading automobile, cycle, and RV appraisal company. With the acquisition of the best talent in the independent appraisal industry combined with the release of their revolutionary field inspection technology, TTA is setting their sights on becoming the very first global independent material damage appraisal company, and to be the first independent appraisal company to set cycle time and severity standards as never seen before in the industry. More information on TTA Appraisal can be found online at https://www.tta-appraisal.com.