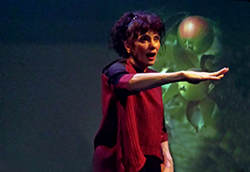 ...a force to be reckoned with...she gives a powerhouse performance that will leave you laughing, crying and oh so hungry... for more." Lisa Lucas, Emmy Winning Writer/Producer
Philadelphia, PA (PRWEB) July 11, 2017
The Meatball Chronicles follows one woman through humorous and sometimes heart wrenching meals that align with stories of her childhood, her relationships with men, and in particular, her complicated relationship to her mother. Mansini crafts this piece in a way that transcends her own story into universal themes that anyone who has a family can love. As she kneads the dough and thickens the sauce through each Italian recipe, the stories associated with those recipes reveal the complex ways that families cope, laugh, grieve, and show their love through food. The Meatball Chronicles is an intimate solo performance by film and TV actress Debrianna Mansini (Crazy Heart, Breaking Bad, and Better Call Saul).
WHAT: Fringe Arts Festival presents
The Meatball Chronicles
By Debrianna Mansini
WHERE: CSz Philadelphia at the Adrienne Theater
2030 Sansom Street
Philadelphia, PA 19103
WHEN: September 10 @ 5:30pm
September 11 @ 7:30pm
September 12 @ 7:30pm
TICKETS: http://fringearts.com/
COST: $20
DETAILS:
The Meatball Chronicles has toured across the country and now, with family history in Philadelphia, Debrianna Mansini brings this delicious, often hilarious journey of food, life, and love to the City of Brotherly Love. From the value of making a good pie to garlic reminding her of her mother, Debrianna Mansini catalogues the culinary and family stories of her Italian immigrant family. "If I want to know you I cook for you," Mansini notes. Experience this lighthearted tour of sharing love through the meals we cook for one another.
"Even though the story is personal, I think everyone can relate to some part of it- the familial relationships that struggle through immigration, mental illness and love. I personally see everything through the lens of food - as I say in the show, it's where we celebrated our joys and hide our sadness; all of it is told through my recipe for a meatball everyone wants to eat at the end." – Debrianna Mansini
With its own twist on dinner theater, there is not food shared within the performance, however before or after the show you can taste a meal inspired by the show! The Meatball Chronicles is partnering with a local restaurant, which will be selected in the coming weeks. Find out more details at: debriannamansini.com.
CREATIVE TEAM:
CREATOR and PERFORMER: Debrianna Mansini
DIRECTOR: Tanya Taylor Rubenstein
VIDEO PROJECTION: David Forlano
BIOGRAPHY:
Debrianna Mansini is an actor who has been seen in film and TV for Hell or High Water, Crazy Heart, Breaking Bad, and Better Call Saul, to name a few. She is also an actor, creator, and co-writer of the web series CYPHERS and the upcoming REACTION 21. She is a New York trained actor with a passion for activism. "I believe deeply in using my skills to promote community and consciousness. " Mansini trained in NYC at Circle in the Square before moving to Santa Fe. She produced theatre with Tin Roof Productions and Santa Fe Performing Arts Company— where she was a company member for ten years, performing on the main stage and touring children's theatre throughout northern New Mexico. She is a company member of NM Actor's Lab (Heisenberg) and ForGiving Productions where she recently performed in the wildly popular Love, Loss and What I Wore, Imaging Brad and played Margaret in David Lindsay Abaire's Good People. All three shows toured Santa Fe, Albuquerque and Durango. Ms. Mansini has trained with such greats as Kim Stanley, Jose Quintero, Edward Albee, and Alan Arkin. She has worked Off- Broadway in New York City at the Soho Rep.