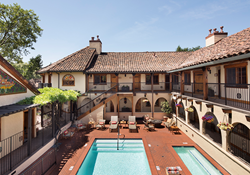 Napa Valley, CA (PRWEB) July 09, 2017
Napa Valley's Rancho Caymus Inn reopens its doors after a two-year, multi-million dollar renovation. The historic Inn has been brought back to vibrant life by its owner, George Altamura Jr. The intimately scaled hotel wraps around a plunge pool, spa, and lounge areas with firepits.
The property was originated by late vintner, designer, pilot and renaissance woman Mary Tilden Morton (Berkeley California's Tilden Park & Morton Salt families). The inn's Spanish hacienda style was handcrafted using materials that were carefully dismantled from a 19th century Yorkshire Ohio barn. The exposed mortise and tendon beams, custom doors and walnut counter-tops are second to none. In addition, nine original stained glass windows by acclaimed artist Gaye Frisk are displayed in the Inn's premium suites. The Inn's original hand woven pillow covers and blankets—crafted decades ago by the Salazaca and Otavalon Indians of Ecuador—have been memorialized as unique wall hangings in every guest suite. In 1987,​ world-renowned ceramic tile mural and mosaic artist Guillermo Wagner Granizo was commissioned to deliver "Grape Harvest," a mural that overlooks the pool, spa and terrace area. It's these artisan details throughout the hotel that continue to celebrate its heritage.
The beautifully restored Morton Hall and Rutherford Room are available for guest enjoyment and will be used for the hotel's signature complimentary continental breakfast, corporate events, weddings, and weekly wine tasting sessions.
Altamura has restored the Inn's natural beauty so that Mary's numerous talents live on to this day.
About Rancho Caymus Inn
Nestled in the idyllic hamlet of Rutherford in Napa Valley, Rancho Caymus Inn is a historic boutique hotel unlike any other in wine country.
Rancho Caymus Inn is located in the heart of the Napa Valley on quiet scenic Rutherford Road which connects Highway 29 to the Silverado Trail. Walk to the popular Rutherford Grill and BV Vineyards Tasting room as well as Elizabeth Spencer. Rutherford alone is home to over 21 wineries, allowing hotel guests to take advantage of being minutes away from the world's best wineries and restaurants. At Rancho Caymus Inn, enjoy an intimate atmosphere while not sacrificing proximity to all that the valley has to offer.