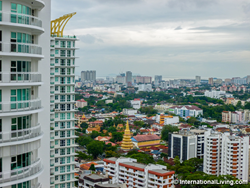 Medical bills you can afford, physicians who make house calls, healthcare so affordable Americans are simply paying out of pocket:
Baltimore, MD (PRWEB) July 10, 2017
Medical bills you can afford, physicians who make house calls, healthcare so affordable Americans are simply paying out of pocket: The cost of quality healthcare isn't a worry for the thousands of U.S. retirees who have made their home overseas, according to the editors at International Living.
Healthcare is one of the most significant and hard-to-plan-for costs in retirement. And it looks set to get costlier as new figures from HealthView Services show. The producer of healthcare cost-projection software reports that retiree-healthcare expenses will rise at an average annual rate of 5.47% for the foreseeable future—almost triple the U.S. inflation rate from 2012-2016 (1.9%) and more than double annual projected Social Security cost-of-living adjustments (COLAs –2.6%).
But U.S. citizens who have made the move abroad say they aren't concerned. "When I moved to Mexico, one piece of emotional baggage I left behind in the U.S. was worry over the cost of healthcare," says International Living 's Mexico Editor, Glynna Prentice.
"In Mexico, I have access to two affordable healthcare systems: public and private. In Mexico's private healthcare system, costs—pretty much across the board—run 25% to 50% of U.S. costs for comparable services. And as a legal resident in Mexico, I also have access to Mexico's public healthcare system, which runs most people around $300 to $400 or so a year—or less," says Prentice, one of an estimated 1 million Americans now living in Mexico.
She's not alone in finding good healthcare abroad.
Expat Kate Barron, who lives in Mérida, Mexico says that she visited one of the city's top allergy specialists. "He was great, on time, and cheap," she says. The cost: about $35. For quick treatment of minor ailments, you can also get a walk-in appointment with doctors on staff at discount pharmacies.
Mexico isn't the only country where the calibre and price of care are excellent. According to the World Health Organization (WHO), Colombia ranks 22nd in the world for quality of healthcare. That's higher than both Canada (30th) and the U.S. (37th).
"As a retired healthcare executive, I know what I'm talking about when I say that the quality of care for expats in Colombia is excellent," says International Living's Colombia Correspondent, Nancy Kiernan.
Kiernan has lived in Medellin with her husband Mike for five years and says, "I have had laboratory tests, a mammogram, tests for cervical cancer, and a biopsy. In each case, the process was quick, the facilities were state-of-the-art, and most of the results were available online within a day or two."
These sentiments are shared by expat John Stroup, also based in Medellin. "I was diagnosed with high blood pressure," he says. "My general medicine doctor here in Colombia told me that I needed a series of laboratory tests, so that he could create a treatment plan. I must have had 50 different tests for only $50." John follows a pay-as-you-go philosophy, paying out-of-pocket for treatment. "Even if you don't have health insurance here, tests and doctor's visits are still not very expensive," Stroup says.
Curt Noe, a retired traffic engineer from New Jersey, moved to Medellín in 2007. "I arrived with a pre-existing condition of cancer," he states. "I expected to have a problem getting health insurance here and was pleasantly surprised that I was completely covered by the national health plan (EPS) after only a six-month waiting period."
During his first few years in Medellín, Curt flew back to the U.S. for second opinions and follow-up appointments. "I realized I didn't need to spend the money to do that, after my U.S. doctors said that the care I am receiving in Medellín is on par with what they would do."
Maine-native Katherine Gallimore speaks just as highly of the healthcare offered in Panama. "I had surgery not long ago with an ENT (ear, nose, and throat) doctor. The care and service were excellent and my out-of-pocket cost was only $900. And, as usual, the doctor gave me her personal cell phone number in case I needed to reach her."
When funds from his severance package ran out, expat Rob Evans and his wife, Jeni, started taking advantage of the low-cost medications and treatment of minor ailments that pharmacies in Costa Rica often provide. Good healthcare for the couple was going to cost $18,000 a year in the U.S. "We simply couldn't afford it," says Evans. "If we chose to stay there, I would have had to get another job just to pay for healthcare." Instead, they moved overseas. "In Costa Rica, we can satisfy all our healthcare needs for about $4,000 per year," says Evans.
Texan John Michael Arthur, M.D. has a lot of praise for the Costa Rican Healthcare system. "When my partner and I left Texas for Costa Rica, many friends said, 'Well sure, you're not worried about medical care, you're a doctor,'" Arthur says. "To tell the truth, that actually makes me much more critical of the medical care available in other countries. Unlike some foreign nations, Costa Rica has nothing to worry about; state-of-the-art services are available here in all branches of medicine and dentistry."
The complete International Living 5 Countries with the Best Healthcare in the World, can be found here: 5 Countries with the Best Healthcare in the World.
Members of the media have full permission to reprint the article linked above once credit is given to InternationalLiving.com. Further information, as well as interviews with expert authors for radio, TV or print, is available on request. Photos are also available. To learn more, please contact InternationalLiving.com Associate Editor, Carol Barron, tel. (772) 678 – 0287, e-mail: CBarron(at)internationalliving(dot)com
For 37 years, InternationalLiving.com has been the leading authority for anyone looking for global retirement or relocation opportunities. Through its monthly magazine and related e-letters, extensive website, podcasts, online bookstore, and events held around the world, InternationalLiving.com provides information and services to help its readers live better, travel farther, have more fun, save more money, and find better business opportunities when they expand their world beyond their own shores. InternationalLiving.com has more than 200 correspondents traveling the globe, investigating the best opportunities for travel, retirement, real estate, and investment.