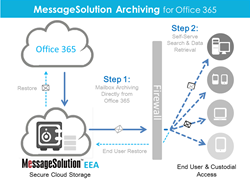 We offer global partners a true value for their clients with both online enterprise archiving and eDiscovery services at half the cost to replace Microsoft Office365's $16.50+ per user/month for eDiscovery service.
Washington DC (PRWEB) July 10, 2017
As the countdown to this year's Microsoft WPC begins, MessageSolution, Inc., the global technology leader specializing in information archiving and eDiscovery for email, SharePoint and file systems, will be showcasing its enhanced partner program from July 10 to July 13, 2017 at the Walter E. Washington Convention Center in Washington, D.C.
Cloud Solutions, Enterprise On-Premise and Managed Service Provider Hosted Platforms
MessageSolution offers global partners the most diverse solution portfolio for a maximized ROI. Partners now have the option of re-selling three flexible deployment modules: the MessageSolution hosted cloud-based system, enterprise on-premise solution, and MSP hosted platform. With VARs and MSPs located in North America, Australia, Europe, Asia Pacific and Africa, MessageSolution works closely with worldwide partners to bring information archiving and eDiscovery services across global channel networks.
"The industry-leading analyst Gartner recommends Microsoft Exchange Online and Office 365 archiving only when litigation and governance event history, case volume and scope are low," explains Kevin McInerney, Global Marketing Strategist at MessageSolution. "In areas such as legal hold management, predictive analytics and document review for eDiscovery, highly regulated global enterprises are advised to couple Microsoft's capabilities with a specialized third-party Independent Software Vendor (ISV) such as MessageSolution."
Online Global Deployment for Enterprise and SME Companies
MessageSolution delivers industry-leading scalability capable of hosting 25,000 active users on a single server configuration. This scalability facilitates a 1:5 ratio savings on the hardware requirements for ISP cloud operations and enterprise on-premise deployments, achieving significant cost-cutting for enterprise customers across industries.
ISP and MSP (Managed Service Provider) Revenue Opportunities
With free consultation, co-marketing services, technical demos, data sheets, white papers, and co-sponsoring of events to generate business opportunities, partners can swiftly enter the marketplace and re-sell MessageSolution platforms. In some instances, partners can retain 100% revenue by providing services with MessageSolution tools and features. Overall, partners can generate a significant profit margin and save up to 70% off MSRP by utilizing multiple platforms and volume pricing.
Partners can also instantly implement archiving services for their clients with MessageSolution's 2-Step MSP Program. Initially, MessageSolution will host the partner's clients in the cloud archive. As the partner learns more about MessageSolution products and becomes more familiar with its services, client data can then be seamlessly transferred to the MSP hosted multi-tenant platform, thus leveraging the partner's infrastructure and maximizing revenue. Most competitors only offer either a hosted or on-premise product for partners to resell, which creates a limited revenue opportunity.
"We offer global partners a true value for their clients with both online enterprise archiving and eDiscovery services at half the cost to complement or replace Microsoft Office365 E5 Plan for advanced eDiscovery service," Kevin McInerney continues, "As a technology and Gold Partner with Microsoft programs for over a decade, MessageSolution platforms integrate with Office365, SharePoint Online, One-Drive, and keep advanced eDiscovery audit log information for companies' long term eDiscovery records."
Microsoft Inspire 2017 WPC
Every year Microsoft hosts its annual Worldwide Partner Conference to provide a collaborative networking and meeting experience for its top partners. This year the theme of the event is Microsoft Inspire 2017 Worldwide Partner Conference.
MessageSolution will be exhibiting at Booth 1029 Microsoft Inspire 2017 WPC from July 10 to 13, 2017 at the Walter E. Washington Convention Center in Washington, D.C. MessageSolution's current partners and clients that plan to attend the show can obtain free passes with MessageSolution. Please contact MessageSolution at +001(408) 383-0100 or email Press(at)MessageSolution(dot)com.
For more information on WPC, visit http://www.digitalwpc.com.
About MessageSolution
MessageSolution, Inc., is technology leader in unified email, file systems and SharePoint content archiving, legal eDiscovery, and data migration. With Cloud, service provider hosted multi-tenant, and enterprise on-premise software solutions available, MessageSolution enables organizations of all sizes from all industries to mitigate risk, comply with industry and federal regulations, reduce companies' legal discovery cost, minimize enterprise storage requirements. The MessageSolution Platform supports the organizational and governing backbone to manage the lifecycle of electronic stored information (ESI) by fully integrating with Exchange, Office 365, Lotus Notes Domino, Google Mails, GroupWise and all Linux email platforms and supporting all SharePoint documents, file system and content types.
Founded in 2004 and based in Silicon Valley, California, MessageSolution maintains operations in North America, Europe, and Asia Pacific, along with distribution channels in Europe, Africa, Australia, Asia Pacific and the Middle East. Domestic and international customers are from all sectors of the market place, including U.S. Department of Commerce, Honda China, University of Texas A & M, Randolph School District, Tacoma College, Hong Kong University, Lockheed Federal Credit Union, Federal National Bank, Bank of Manhattan, and the Massachusetts State Court System, etc.
For more information, visit http://www.MessageSolution.com or call +001 408-383-0100.