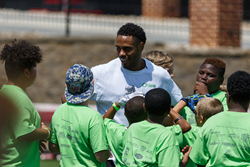 Lynchburg, VA (PRWEB) July 08, 2017
After pounding the gridiron with the New York Giants and dancing his way to the Mirror Ball trophy on ABC's "Dancing with the Stars," Liberty University alumnus Rashad Jennings ('09) is in an offseason from national television. This weekend, the Lynchburg area native and former Flames standout has come home.
Jennings hosted his annual Camp 180 inside Williams Stadium, where he rushed for a number of his 42 total touchdowns over three seasons in a Liberty jersey. More than 500 area youth trained and sharpened their football skills with Jennings and a number of coaches from across the country. Jennings also hopes that he modeled good character and hard work to them and that the lessons stay with them for life.
Through his Rashad Jennings Foundation, Jennings does more than host football camps, he promotes literacy and wellness year-round. Jennings hopes to inspire and transform young lives across the nation, but Lynchburg holds a special place in his heart.
"It is extremely important for me to give back to my hometown," Jennings said. "I say this all the time: There is nothing special about me, I just find myself in a special position. … I know what it is like to grow up here, to struggle here, and to be successful coming out of here. Every time I come back, I am rejuvenated, I am refreshed, because it reminds me why I work so hard. So, anytime that I can unmask myself and utilize everything to magnify the things that I should, I want to do that."
Jennings is currently an NFL free agent, looking to get picked up by a team for his ninth season. He was drafted out of Liberty in 2009 by the Jacksonville Jaguars where he played before a 2013 stint in Oakland before three seasons in New York.
After the 2016-17 NFL season, Jennings was paired with professional dancer Emma Slater for Season 24 of ABC's "Dancing with the Stars." En route to winning the popular TV dance competition's championship, Jennings captivated the nation. His Week 4 performance on the show's "Most Memorable Year" episode in April featured a dance dedicated to his father, Lynchburg resident Albert Jennings, who was in the audience cheering on his son because of a kind act by Liberty.
"It felt special to know that my hometown had my back throughout the entire show," Jennings said, noting that Liberty held a special watch party for the finale.
Jennings was also the featured speaker at Liberty's 2016 Commencement. He remains the youngest person to give the keynote address at Liberty.
Whatever the next step in his career may be, Jennings is confident in who oversees that process.
"My faith is the reason I can always have a smile on my face," Jennings said. "God gives, God can take. As long as He keeps giving to me, I am going to keep finding ways to use it and give back. It's hard for me to take credit for anything successful that I have done because I have always had people that are praying for me, believing in me, before I even knew who I was."
Watch for an interview with Jennings at GameOnLU.com.
About Liberty University 
Liberty University, founded in 1971, is the largest private, nonprofit university in the nation, the largest university in Virginia, and the largest Christian university in the world. Located near the Blue Ridge Mountains on more than 7,000 acres in Lynchburg, Va., Liberty offers more than 550 unique programs of study from the associate to the doctoral level. More than 250 programs are offered online. Liberty's mission is to train Champions for Christ with the values, knowledge, and skills essential for impacting tomorrow's world.