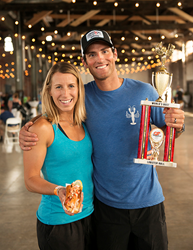 Portland, Maine (PRWEB) July 09, 2017
Ben and Lorin Smaha from Freshies Lobster Co. captured the title of the "World's Best Lobster Roll" at the inaugural Down East Lobster Roll Festival. Twelve semi-finalists competed at the event at Thompson's Point in Portland, Maine. The event began with a VIP reception for more than 250 people who got a chance to taste the 12 different rolls and vote on their favorite. The top three picks from the People's Choice were then voted on by a judges' panel to determine the winner.
The Clam Shack, Freshies Lobster Co. and Northern Maine Community College were the top 3 rolls, with Freshies coming out on top.
The winning roll from Freshies was a grilled New England style hot dog bun filled with tail, knuckle and claw meat, topped with drawn butter, chives and a touch of lemon.
Ben Smaha is from Cape Elizabeth, Maine, and Lorin is from New Hampshire. They now live in Park City, Utah, where they have introduced the tasty Maine treat to the residents of Park City.
The judges included Scott DeSimon, an editor and writer who has been professionally obsessed with food and drink for almost 20 years; Rebecca Charles, who opened Pearl Oyster Bar in 1997 and introduced the lobster roll to Manhattan; Michael Stern, a co-creator of Roadfood.com and, with Jane Stern, has written over 40 books about American food and popular culture, including best-sellers Elvis World and The Encyclopedia of Bad Taste; Sonny Beal, who began lobstering when he was 12 years old and who makes his home on Beals Island, Maine, with his wife and two boys; and John Leavitt, who works for Portland, ME's very own Ready Seafood Company, where he provides, distributes, and sells lobster to some of the finest lobster roll purveyors in the world.
The 12 semi-finalists that competed:
The Lobster Lady, Phoenix, AZ and Isle au Haut, ME
The Clam Shack — Kennebunk, ME
Bob's Clam Hut — Kittery, ME
Cousins Maine Lobster — Los Angeles, CA and Various Locations
C-Ray Lobster — Bar Harbor, ME
Bite Into Maine — Cape Elizabeth, ME
The Highroller Lobster Co. — Portland, ME
Northern Maine Community College — Presque Isle, ME
Eventide Oyster Co. — Portland, ME
Luke's Lobster — New York, NY and Various Locations
Freshies Lobster Co. — Park City, Utah
Stonington Ice Cream Company — Stonington, ME