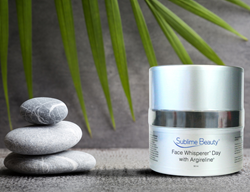 Sublime Beauty Chose Three Popular Products to Discount for Amazon Prime Day on Monday and Tuesday Only, While Quantities Last.
St. Petersburg, FL (PRWEB) July 11, 2017
Amazon Prime Day deals are available on three popular and effective Sublime Beauty products today and tomorrow only: the Face Whisperer Day Cream (35% off), Ageless Line Smoother Serum (40% off) and Cellulite Whisperer Gel (50% off.)
The Face Whisperer Day Cream features Argireline, known as the natural botox, and helps to relax wrinkles while boosting collagen with peptides and moisturizing beautifully. Get it here and use code 35FPRIME.
The Ageless Line Smoother Serum features the wonderful peptide Matrixyl, which helps boost collagen in the skin plus Hyacare Filler, a mix of hyaluronic acid and other peptides to reduce wrinkles. Get it here and use code 4LINEAGE.
The Cellulite Whisperer Gel is made up of organic ingredients that are known to smooth skin, help rebuild cell walls, break down toxins under the skin and improve skin. Limited quantities available. Find it here and use code GELPRIME.
Not an Amazon Prime member? The same deal and codes are available on the SublimeBeautyShop.com store on Monday and Tuesday only. Free standard shipping and 100% satisfaction guarantee apply.
ABOUT: Sublime Beauty is a French-inspired skin care company that offers an array of facial and body products plus Skin Brushes.